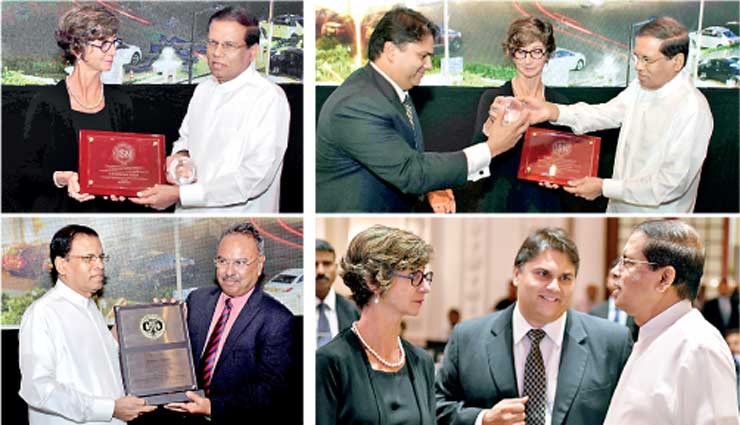 The International Society of Nephrology (ISN) has recognised Sri Lanka President Maithripala Sirisena's commitment and dedication to prevent the kidney disease in Sri Lanka with a special award.

ISN President Prof. Adeera Levin presented the 2016 Extraordinary Contributions to Kidney Health award by the ISN to President Maithripala Sirisena in recognition of his service in the prevention of Chronic Kidney Diseases (CKDu).

The award was presented to the President at the inauguration of the International Society of Nephrology (ISN)-Gardiner CKDu Fund at the Galle Face Hotel in Colombo Monday evening. This is the first time ISN Award for Extraordinary Contributions to Kidney Health is given to a head of state.

Expressing his gratitude on behalf of all the Sri Lankans to the Brussels-based International Society of Nephrology for presenting the award, President Sirisena said that the award strengthens the program carried out by the Government for the welfare of the kidney patients.

The President said that the Government has a long journey to go to save the poor people of the country who are faced with the dreaded disease over the past two decades. He also requested for the contribution of everybody in this regard.

President Sirisena also presented an award to Prof. Levin in recognition of her contribution at the international level to prevent CKDu in Sri Lanka.

Awards were also presented to Consultant Physician Dr. Thilak Abeysekara, Dr. Abraham and Project Director of Presidential Task Force on Prevention of Chronic Kidney Disease, Asela Iddawela in recognition of their great service for the prevention of CKDu in Sri Lanka.

Presidential Ambassador for the Prevention of Kidney Disease and Chairman of Galle Face Hotel Sanjeeva Gardiner had taken the initiative to establish the ISN-Gardiner CKDu Fund, which would assist kidney patients worldwide including in Sri Lanka.

Ministers Ravi Karunanayake, Mahinda Samarasinghe, Patali Champika Ranawaka, John Amaratunga, Arjuna Ranatunga, MPs, Secretary to the President P.B. Abeykoon, the United States Ambassador to Sri Lanka, Atul Keshap, the Chairman of Galle Face Hotel and the Brand Ambassador of the Presidential Task Force for Kidney Disease Prevention, Sanjeewa and Gardiner also participated in the event.