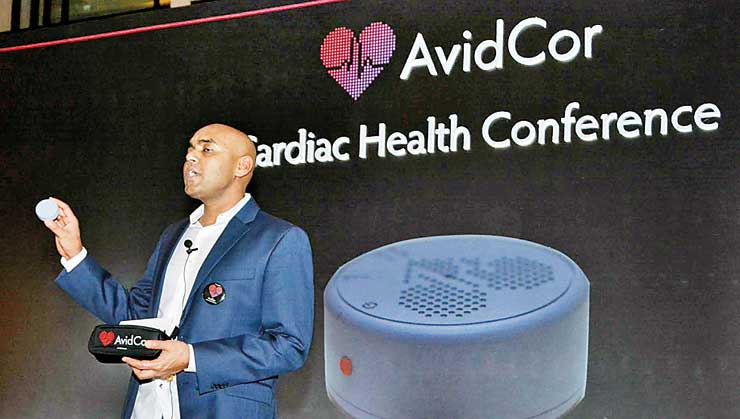 Health technology company AvidCor introduced an inexpensive and portable cardiac health-monitoring device to local healthcare experts and practitioners at the first Annual AvidCor Cardiac Health Conference 11 December at the Cinnamon Grand, Colombo, Sri Lanka. The Chief Guest was Sri Lanka Heart Association, immediate Past President Dr. Rohan Gunawardana.

AvidCor, with regional offices in India and Sri Lanka, is known for producing inexpensive, bleeding-edge, highly user-friendly, portable, wearable devices for remote monitoring of vital parameters, such as Pulse Rhythm, ECG, PulseOxy and Temperature. The company is a subsidiary of Venturit Inc., a boutique app development company headquartered in Michigan, USA, and the brainchild of Sri Lankan entrepreneur Prabode Weebadde.

The AvidCor device addresses the need for affordable and compact alternatives in Sri Lanka and other developing countries for cardiac monitoring. Studies have shown that almost one in three South Asians die from heart disease before the age 65. According to the World Health Organization's country profile of 2014, 40% of Sri Lanka's deaths accounted for by noncommunicable diseases (NCDs) are due to cardiovascular ailments.

When connected via Bluetooth, the smart device monitors and measures heart rate, ECG, pulse oximetry and skin temperature. The device is optimised for self-monitoring and is extremely easy to use. Users can download the AvidCor app for both iOS and Android, register with AvidCor, and simply start using the device. The data is then analysed and shared with the patient and caregivers via a cloud-based electronic medical record.

In a recent research study conducted by a team of scientists from the Faculty of Medicine University of Kelaniya, the patent pending AvidCor cardiac technology was shown to be equivalent to hospital grade, expensive cardiac monitors used in Sri Lanka, India, and USA. There was no significant difference between AvidCor and the standard monitoring devices when comparing ECG, PulseOxy and Temperature.

The device is being introduced to healthcare practitioners at present and will be commercially available to the general public shortly. The affordability of the monitor is expected to encourage better cardiac monitoring practices in developing countries, mostly in South Asia.

Dr. Bob Frank, a renowned cardiac surgeon based in Michigan, USA, heads the Senior Executive Team at AvidCor as Chief Executive Officer, with Dr. Brian Collins as Vice President, Dr. Victor Karthik as Director of Wearable Technologies, together with Prof. Kithsiri Gunawardana and Dr. Wasanthi Subasinghe, both members of the Medical Faculty, University of Kelaniya, serving as members of the Advisory Board.

"With IoT moving at such a rapid pace and millions of connected, portable devices, healthcare devices need to adapt to our daily routines," Chairman Prabode Weebadde commented. "By making the device available to Sri Lankans at an affordable price, we hope that monitoring vital signs will become a common practice, similar to how blood sugar meters are used by patients to self-monitor themselves today," stated CEO Dr. Bob Frank.

The company believes the device will help identify cardiac risks early on, allowing users to take proactive measures and prevent heart diseases. Users of the AvidCor solution can register at the companion site at www.avidcor.com to review readings and connect with doctors. The AvidCor Sri Lanka hotline is 071 552 9594.