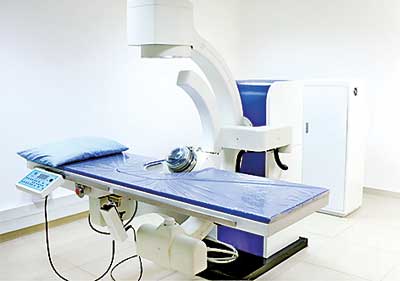 Dr. Neville Fernando Teaching Hospital Malabe (NFTH) has introduced modern treatment for kidney and urogenital system disease. This high quality treatment for very reasonable charges which cannot be obtained from any other private hospital is offered to patients from Dr. Neville Fernando Teaching Hospital's Kidney and Urogenital system Unit.

Dr Neville Fernando Teaching Hospital and SAITM Chairman Dr. Neville Fernando said that the NFTH has brought down Shock Wave Lithotripter which is a modern sophisticated machine that is used to remove stones in the kidney. The equipment valued at over Rs. 25 million enables the carrying out of treatment without making patients unconscious in a very short period of time, thus eliminating the necessity of getting admitted to hospital. Specialist Doctor Professor Neville D. Perera is the acting head of the Kidney and Urogenital system Disease Department.

"Destroying stones in the kidney by sending sound waves into the body has become a very popular treatment method. With this method about 80% of normal stones in the kidney can be squashed and removed. The Shock Wave Lithotripter that is used for this treatment till recently was only available in government hospitals. However with the acquisition of Shock Wave Lithotripter equipment by Dr Neville Fernando Teaching Hospital now kidney stone treatment can be obtained with much convenience for a very reasonable price at NFTH," said Chairman Dr. Neville Fernando.

Also another specialty is that out of the private hospitals in the Colombo district only NFTH offers treatment using the modern Shock Wave Lithotripter. Dr. Fernando said the cost will be 30% less for kidney stone removal treatment at NFTH when compared to other private hospitals. In addition other modern treatment for the removal of stones in the kidney by using medicines and by using telescope too was available at NFTH.

In addition treatment is available at NETH for cancers in kidney and urinary system and impotency of men .The hospital is well equipped for providing excellent treatment with Specialist Doctors, experienced and well trained nursing staff and state of the art modern operation theatres. The hotlines 0112407600 and 0710481217 are opened for inquiry and clarifications of the public. More details can also be obtained from the official website of NFTH www.nfth.lk.

NFTH is the largest private hospital in Sri Lanka with 1,002 beds and the first private teaching hospital in the country. Patients also get the invaluable opportunity to obtain the service of over 50 full time renowned professors and specialist doctors' service round the clock from NFTH. The hospital is situated in a calm tranquil greenish environment surrounded with flora away from the urban congestion in Malabe just 30 minutes' drive from Colombo. NFTH consists of all facilities needed to provide the required medical services for a very reasonable price to patients. The hospital is also located very close to the Kaduwela highway exit and therefore it is now in demand among the patients living in down south as well.