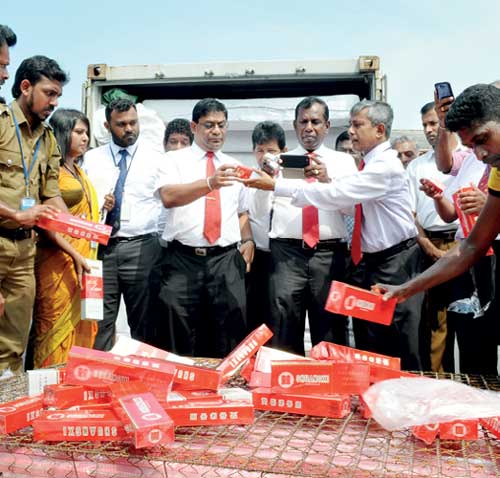 A consignment of 1.3 million Chinese cigarettes, valued at Rs. 75 million and concealed in a container packed with mattresses imported from China, has been detected by officers of the Central Investigation Bureau of Sri Lanka Customs.

The consignment had been imported in a ship named the MSC Erika and was detected earlier this week. The importer, who has not submitted a Declaration to Customs, has been detained for interrogation. A Chinese national residing in Sri Lanka has been identified as the mastermind behind the smuggling racket.

The investigation is being conducted by the Superintendent of Customs of the Central Investigation Bureau G.B. Gnanaraj, Customs Assistant Superintendents Wasana Rubasinghe, Prasantha Kumara and Dilan Sirantha on the directions of Customs Director General Chulananda Perera and Customs Director K. D. Ruwanpathirana.