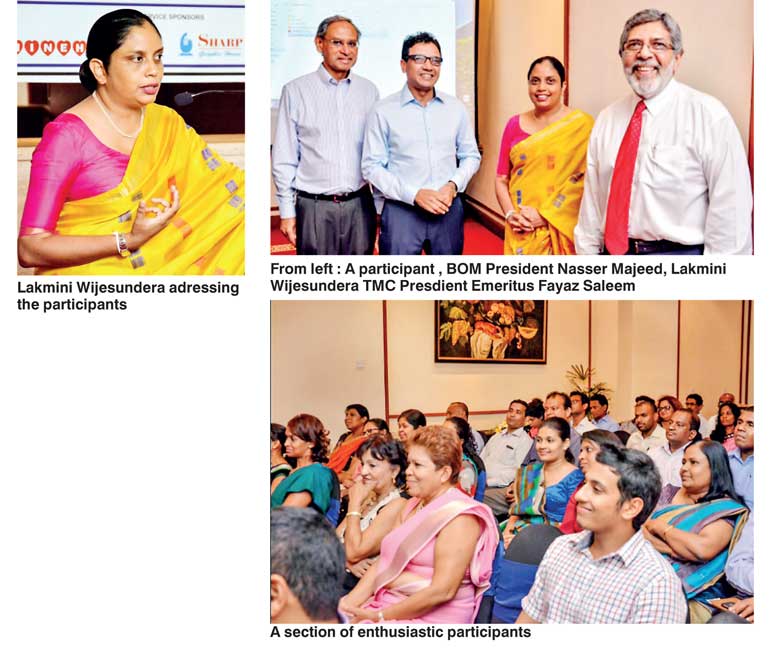 They say every great dream begins with a dreamer and being a successful woman is a journey and not a destination. That successful TMC's evening presentation held on 1 December at the Galadari Hotel had a special speaker – a female business leader who had made a name for herself and her nation.

She was Lakmini Wijesundera co-founder and CEO of IronOne Technologies making trailblazing achievements in over 15 countries and among the top CEOs and business leaders in Asia. Her software innovation has made her 500 plus top echelon clients realise the potential of Sri Lankan innovators. Her presentation should inspire entrepreneurs and innovators to take Sri Lankan identity globally as she has done. Numerous times Lakmini Wijesundera pointed out that her desire was to make a name for Sri Lanka in the global market and create a brand image as other more popular industries like tea, rubber, tourism, apparel have done.

She highlighted how the rise of Asia should inspire Asians to reach out to the escalating power houses now emerging before other continents make their headway. There is no reward in life without risk said Barry J. Farber and Lakmini's message to her Sri Lankan audience was not to delay, to take risks, never to accept no, follow one's gut feeling, sometimes it pays to go against the tide, believe in yourself, in your team and in your product. These were all welcome titbits for anyone aspiring to make a name for themselves.

She also highlighted how her company had made headway even through cold calls, how they had invested by advertising in global popular magazines and journals and how they had also invested in aligning with research firms who have provided them with tips on how and where the trend is going. When competitors start attacking it is a sign that your company is doing well. She shared a wealth of information and tips during her presentation the crux of which centred around feeling the desire to create a Sri Lankan image identity and name globally. She repeatedly reiterated how proud she felt to have a Sri Lankan product being used by so many CEOs across Asia and even in South Africa where her company now has presence.

To the forum of managers present the evening presentation highlighted how Sri Lankan companies can make a name, how few of us know about achievements of our own globally and the need to look beyond the stereotypes to make a mark as Lakmini Wijesundera had done.

As the first female to grace The Management Club's evening presentation she delivered a wealth of information and tips to the gathering leaving them inspired and admiring her confidence, enthusiasm and business acumen in taking Sri Lanka to the global arena.

The Management Club will be celebrating 15 years in February 2017 having emerged to socially interact, share knowledge know-how and inspire the business community. TMC has associates in Mt. Lavinia, Negombo and Kalutara as well as a special Enable the Disabled unit. Fayaz Saleem is the President Emeritus. TMC Colombo is housed at Galadari Hotel and Nasser Majeed is the President of the Board of Management.