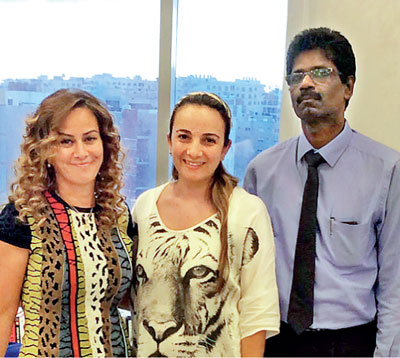 INGOT Brokers, an online financial trading company headquartered in Sydney, has introduced its services in Sri Lanka.

INGOT Consultation Bahrain (www.ingotbh.com) will facilitate the Sri Lanka based activities of the INGOT Brokers and Rajkumar Kanagasingam will be the representative in Sri Lanka.

INGOT Brokers is regulated by Australian Securities and Investments Commission (ASIC) with Australian Financial Services Licence. ASIC is Australia's financial services regulator and responsible for ensuring Australia's financial markets are fair and transparent. ASIC requires licensed financial services providers to meet strict capital requirements and implement proper internal procedures including risk management, staff training, accounting and audits.

INGOT Brokers has earned its recognition since it has been identified as the best FOREX Broker in Africa and Asia from the highly reputed Forex rating agency. It offers its clients the ability to trade in major world CFDs, currencies, futures, stocks, precious metals, natural gas and crude oil.

INGOT Brokers has several hundreds of clients in many parts of the world including individual traders, institutions, and money managers. Its clients can invest in its wide range of products using one account, which makes it convenient for the clients to manage their funds and accomplish their investment targets.

If you like to trade on the go, INGOT Brokers has iPhone app and Android app, so you can trade from anywhere on your phone. INGOT Brokers offers MetaTrader 4, INGOT MT4 Tools Kit, Mobile Trading, Zulu Trade platforms to facilitate your trades.

INGOT Brokers partnership is ideal for individuals and institutions who wish to earn commission by referring new clients. The Referrer fees INGOT offers, are extremely competitive and are based on the trading activity of the clients.

INGOT Consultation Bahrain is a financial services provider established in early 2015 to meet the investors' financial trading needs in the MENA region. It is committed to global financial standards by the efforts of its highly professional team in order to present its clients with the ultimate level of services.

INGOT Consultation Bahrain is directed by Iman Mutlaq, an MBA(Finance) holder from New York Institute of Technology. She is also the Founder/CEO of the Jordan based Sigma Investments Ltd.

Forbes magazine's Middle East edition in 2016 ranked ImanMutlaq to 32nd position as "The 100 Most Powerful Arab Businesswomen". Iman received "Best Woman in the Corporate Sector" at the AmCham MENA Council Women in Business Awards in 2016.

Sigma Investments and INGOT Brokers are members of the three member consortium which signed cooperation protocol with the Egyptian government to establish a $35-50m worth electronic Egyptian Commodities Exchange in Egypt as the first ever country in the MENA region.