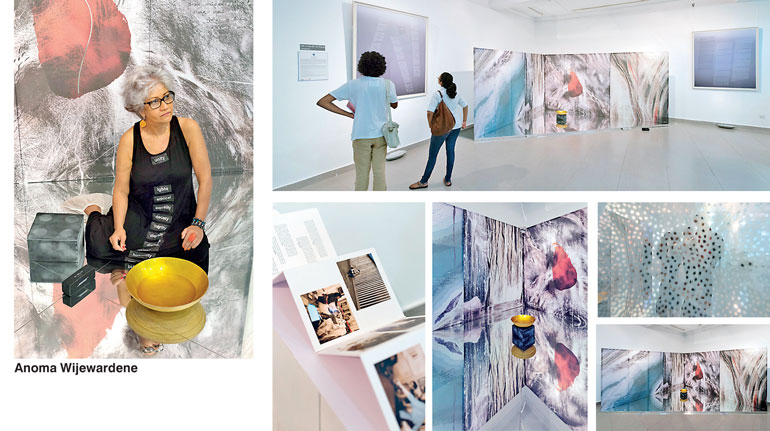 The Colombo Art Biennale (CAB) is the largest and most significant contemporary art manifestation in Sri Lanka. It was created to showcase Sri Lankan art and artists, and to build a platform upon which they would gain recognition both nationally and internationally. Responding to CAB's 2016 theme 'conceiving space', the internationally acclaimed Sri Lankan artist Anoma Wijewardene presented a series of her thought-provoking art through a special collaboration that involved several other creatives. The exhibition will remain open on the top floor of the JDA Perera Gallery, Horton Place, until 20 December.

Speaking on her much-talked about series at the Biennale, Anoma mentions that this piece was a collaboration led by her to include many creatives from diverse nationalities and personalities with varying skills, for a special reason. Wijewardene wanted emphasise on the unity that comes through diversity whether it is diverse religions, ethnicities or cultures when addressing an issue as widespread and as universal as 'normalisation of the unconscionable'. "This art is a response to the rise and normalisation of the unconscionable, the divisive and destructive forces of intolerance, hatred and bigotry. Can human beings surmount our base greed, and biologically programmed need to compete for ourselves, and instead compete to improve our society and environment?" Anoma said.

The installation conceived and 'inspired by the migration and refugee crisis unleashed on the world by war, poverty and famine, with desperate people seeking security and survival; and the following shockwaves that reverberated throughout the globe, creating a volte face for values, ethics and societal norms' combines images of the threatened natural world and reflective surfaces and water along with words from Arundhati Roy's speech and a concept essay specially written for the installation by Radhika Coomaraswamy, with thoughts from thinkers and spiritual leaders from every persuasion, time and place, and calls us to reach to our higher selves.

When looking at the trilingual installation what comes glaringly through is the complexity of the interactive layers of fabric which references the fragility of home, of tented camps; perforations to reiterate the need for openness in a world already porous and leaking, a spiralling crystal ball alluding to questions of how this new unfathomable future will unfold creating illusions in a spinning out of control globe, and a bowl in the centre filled with water channelling the sun, source of energy, and perhaps Maitreeya, a holy grail of loving kindness. Despite boldness coming through from certain angles, a sense of gentle, fragility flows through simultaneously. Perhaps the water or the crystal ball with a sense of past, present and future questions brings vulnerability to it all. One can 'conceive' the space from so many different views least of all the concept of unity in diversity if looked at one dimensionally. Therein lies the beauty of this installation; one needs to look with different lenses. It hints at the need for reflection and contemplation, perhaps reminding us that while we are treading water, much is being lost, perhaps also to caution that every step we take resonates, and has eddying repercussions.

As Coomaraswamy writes 'we are becoming one world while also being diverse. This is our strength and if civilisation is to survive we must acknowledge this unalterable fact…… It is an enormous task but unless we embrace it we will be destroyed by the perversion of the very life force that has also brought us our understanding of love, faith, kindness and care'.

With several collaborators from Sri Lanka, Spain, China and Britain; researchers, translators, interior designers, policy makers, printers, metal workers, spiritual theologian working with the artist through the process of comparative dialogue, freedom of expression and non-judgmental openness, the actual creation of the work is an example of unity in diversity in action.

Anoma shared that one visitor viewing the work was moved to tears shaken by the alchemy of these diverse and brilliant minds. But this is the power of Art, the ability to resonate so deeply.

How does one come home? How does one make something home? How does one feel at home? What is home in a 'borderless world where one can share anything, anywhere in real time? As our borders collide, so do our cultural values.' says interior designer Kike Macias, one of the team.

Taking from the African proverb 'If you want to go fast, go alone. If you want to go far, go together'. Mi Casa Es Tu Casa was created with the support of the Neelan Tiruchelvam Trust, Anim8 and DIMO, and is on the top floor of the JDA Perera Gallery, Horton Place, until 20 December.

For more information on Anoma and her work please log on to www.anomawijewardene.com.