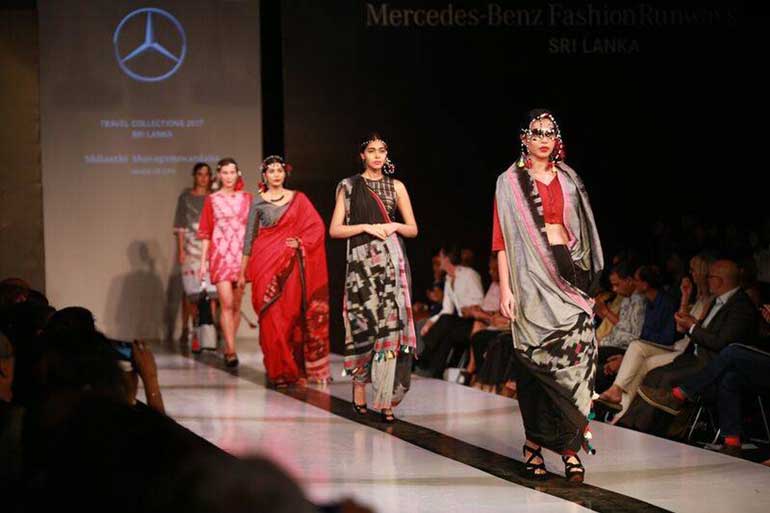 The recently-concluded Sri Lanka Design Festival featured the international fashion platform Mercedes-Benz Fashion Runways. A powerful platform powered by DIMO (Diesel and Motor Engineering PLC), it aimed to highlight Sri Lanka's apparel industry and its latest innovations to the international fashion business.

A highly-successful joint venture by DIMO with AOD, the Mercedes-Benz Fashion Runways presented how the Lankan apparel

industry is reinventing itself with an attractive new proposition to contribute something unique to global fashion.

DIMO, as the Mercedes-Benz brand custodians for Sri Lanka, placed incredible faith in the abilities, vision and future of the local fashion and apparel industry when they brought the internationally acclaimed runway series to the island. DIMO believes in supporting Sri Lanka by promoting its major industries such as apparel and looks to extend new opportunities for exposure, development and new businesses by leveraging on the Mercedes-Benz global runways network.

As the apparel industry prepared to present a new fashion proposition with 'Travel Fashion', it required the attention of an international audience comprised of buyers, retailers and decision makers in global fashion who have the power to make big business with Sri Lanka. It is in this context that DIMO stepped forward to collaborate with AOD in supporting the apparel industry with the mega platform Mercedes-Benz Fashion Runways that has the ability to demand the attention of the fashion world. Mercedes-Benz Fashion Runways Sri Lanka was held as part of Sri Lanka Design Festival and presented the apparel industry's latest transformation to the global fashion community.

DIMO Chairman Ranjith Pandithage released an official statement on how Mercedes-Benz Fashion Runways is part of DIMO's vision to support Sri Lanka and moving it to the future: "DIMO has always been about supporting Sri Lanka. The apparel industry is one of the most important industries in the country and we understand how important it is to support the future development of this industry. It is with this vision in mind that we stepped forward to bring down Mercedes-Benz Fashion Runways to Sri Lanka and create a powerful platform for Sri Lankan fashion and apparel."

AOD and Sri Lanka Design Festival Founder and Managing Director Linda Speldewinde stated that it is important to recognise how DIMO being a leader from the automobile industry had the vision to impact Sri Lanka through a completely different industry such as fashion and apparel: "I must thank DIMO's leaders Ranjith Pandithage and Rajeev Pandithage for having the vision to see beyond their own business when looking to fulfil their mission to impact Sri Lanka. I think it's quite forward thinking to see the future in the form of cross-industry collaborations and I think DIMO is setting an inspiring example here for everyone."

Mercedes-Benz Fashion Runways Sri Lanka was held on three consecutive nights that presented three distinctly different themes. The local apparel industry shared their take on travel fashion on the second day of the runways by presenting a seamless travel wardrobe for curated scenarios.

Hirdaramani and LiCC joint venture 'airport chic' collection that targeted high-end travellers from diverse backgrounds took to the ramps followed by Orit's 'On the road' wardrobe for the traveller on the move. MAS Fabrics took to the catwalk with 'Street Inc.' showing cool street style ideals while Penguin-Emjay & Coats Thread-Opti zips nailed a new active look with 'Travel sport'. Vogue Tex's 'Nostalgic Getaway' and Rakshaa's collection 'By the water front' also presented specially curated looks for ideal travel scenarios.

MRC showed how industry can collaborate with fresh design talent by working with young fashion graduate Ishara Jayatillake for a collection titled 'Urban tropics. Simultaneously, Brandix & Tee Jay Lanka PLC also joined hands with designer Prabath Samarasooriya to take on the runways with a modern outlook to 'Tropical Street Style'.

Taking this designer-manufacturer co-creation model a step further, the fashion value chain leader Coats Thread with their Opti Zips brand collaborated with MAS Linea Aqua, Trischel and the international designers Jane Gottelier as well as the legendary jewellers from the UK, Gary Wright and Sheila Teague. Showing how cross-industry collaboration can present new fashion solutions, Lanka Leather, Innovative Knits & Orient Design joined forces to present the collection 'Urban traveller'. EKKO, the dedicated shirt brand and manufacturer also presented their SS17 for a tropical getaway.

Meanwhile, MAS leveraged on its strength for active wear and put forward the looks 'Travel sport' by Linea Intimo and the 'Active tropics' with Linea Aqua and MAS Active. Timex made the best of their expertise in constructing casual wear with 'Tropical City' while Star Garments, Lanka Leather and Union Apparel collaborated for another successful cross-industry partnership to present the latest looks for the corporate traveller. Furthermore MAS Intimates stunning work for the theme 'Evening City' also underlined using best of fashion tech for new representations of everyday wear.

The runways were concluded with the ultra-modern line-up of looks by the international designer Danit Peleg who was the world's firs to 3D print fashion using home printing technology. All in all, the Mercedes-Benz Fashion Runways presented by DIMO with AOD presented a remarkable global platform for the local apparel industry to present a new fashion proposition from Sri Lanka with a worldwide audience connected through live streaming and participating at the event.

Mercedes-Benz – a household name across the globe – is known as an icon of style and a longstanding supported of fashion. As part of its international brand philosophy, Mercedes-Benz supports fashion innovation all over the world and has a powerful global fashion network. This is what DIMO has brought over to Sri Lanka to help take the country's unique fashion story to the world. With Mercedes-Benz's massive, international fashion grid, local fashion became part of a global network that brings about recognition and opportunities that were inaccessible before.

Mercedes-Benz Fashion Runways was hosted by DIMO with AOD during Sri Lanka Design Festival 2016, through 4, 5 and 6 November at SLECC Colombo. For more information, contact the SLDF secretariat on 076 777 0306 or email info@srilankadesignfestival.com.