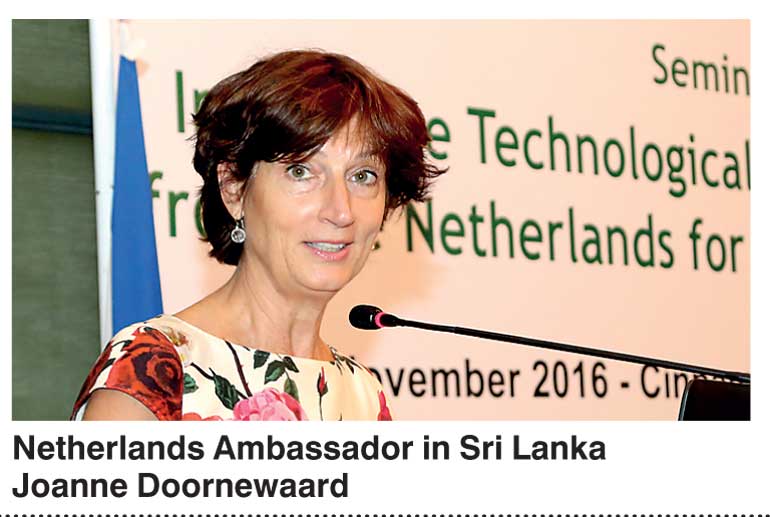 A Dutch Government delegation, including a cluster of private companies and vocational education institutes in the Netherlands, yesterday initiated a dialogue with Sri Lankan businesses to facilitate the dairy sector in Sri Lanka.

The 15-member delegation from Netherlands' dairy and poultry industries will engage in a week-long consultation with local businesses to explore business opportunities with Sri Lanka.

The business delegates engaged in the first round of meetings with local business entities, facilitated by the Ceylon Chamber of Commerce and the Netherlands Embassy. The Dutch delegates will also have consultations with the Ministry of Livestock Development today and visit a number farms to understand the industry specific needs of the country.

Further, the Dutch businesses delegation also signed an agreement pledging their commitment to supporting the Sri Lankan dairy industry through knowledge and technology sharing, during the official trade mission taking place in Sri Lanka from 28 November- 1 December 2016 in the presence of Secretary to the Ministry of Livestock Development, Renuka Ekanayake and Netherlands Ambassador Joanne Doornewaard.

Speaking at the event, Ambassador Doorneeward said that her Government was keen to help Sri Lanka's ambition to reduce the import of milk powder and become self-sufficient in dairy production by 2020. In order to develop a socially and economically viable dairy sector in Sri Lanka, the entire chain in the sector needs to grow significantly, she said, adding that Dutch companies and the Government were ready to share their knowledge with local partners from the industries.

Ekanayake also highlighted the need for better training of Government officials dealing with the dairy and poultry farming industry who engage with the farming community. She also stressed the need for the adoption of new technology and a focus on the export market in order for the local industry to grow.