Admits there had been fiscal dominance over CB in the past
Calls on the private sector to redress the imbalance in economics and politics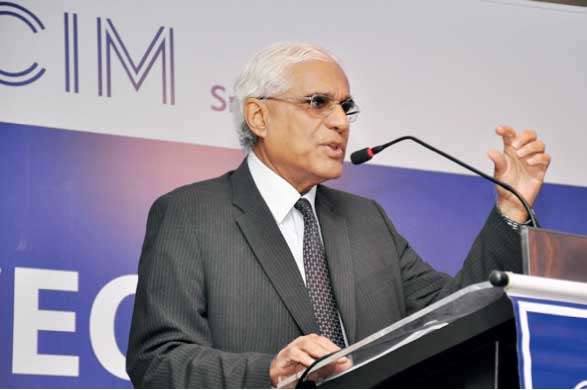 By Charumini de Silva

Putting economics before politics, Central Bank Governor Dr. Indrajit Coomaraswamy yesterday stressed that the Monetary Board was keen to put a complete halt to "fiscal dominance", highlighting that he was keen for it to move towards a progressive monetary policy in the medium term.

Refusing to use the term political agenda, Coomaraswamy, who preferred using "fiscal dominance", admitted that in the past there had been political influence in the Central Bank's independence to execute monetary policy prudence.

"We are keen to end the fiscal dominance and move to a forward looking Monetary Policy set in the medium term framework. In the past we tended to wait and see what we liked to do and what we were determined to do. Hence, now we want to quickly move whenever we see overheating," Dr. Coomaraswamy said while speaking at the CIM CEOs breakfast forum held yesterday.

CB Governor...

On Tuesday (15) Finance Minister Ravi Karunanayake said the Central Bank would be restructured to ensure better execution of the institution's responsibilities and told the Daily FT that the President and the Prime Minister would be spearheading the restructuring process.

"The Central Bank is set up by the Constitution to carry out certain monetary measures, but they have been politicised," an irritated Karunanayake claimed, responding to a question regarding several Budget proposals coming under the purview of the Central Bank and Monetary Board.

The Governor said the Monetary Board had already taken a number of steps to move towards flexible inflation but admitted that there was still work left to be done in terms of building up its model.

"We want to move to a flexible inflation target. We want to create a good framework for Monetary Policy and we want to move early," he added.

To move away from "politics as usual", Dr. Coomaraswamy said that it was time that the private sector defined the extent to which politics could influence it by paying greater attention to the economy.