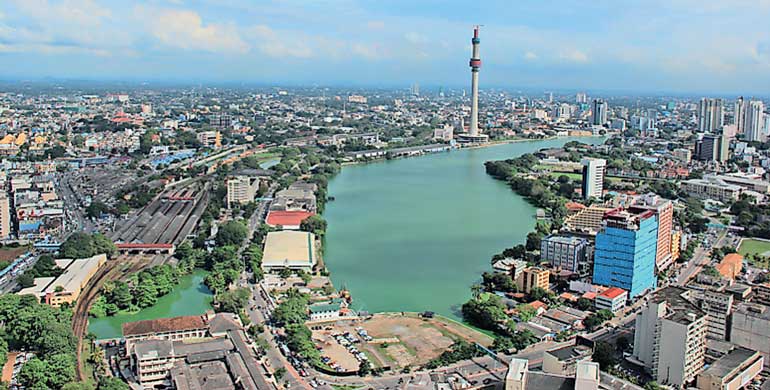 The World Bank's latest Sri Lanka Development Update finds that monetary and fiscal policy corrections and the start of a new IMF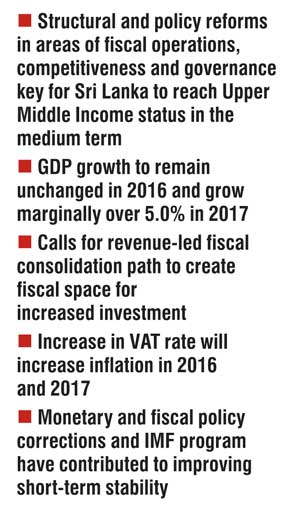 program have contributed to improving short-term stability of Sri Lanka's economy.

The Update, the half-yearly report on the Sri Lankan economy and its prospects, emphasises the importance of adhering to the revenue-led fiscal consolidation path to create fiscal space for increased investment in human and physical capital and the provision of other public goods to sustain growth in the medium term. It also highlights the need for structural reforms to improve competitiveness and governance.

The Update expects Sri Lanka's GDP growth to remain unchanged in 2016 and grow marginally over 5.0% in 2017 and beyond driven by public and private investment (including the resumption of postponed FDI), tourism and reduced negative impact on growth from commodity imports. The impact of past currency depreciation and the increase in the VAT rate will increase inflation in 2016 and 2017 despite downward pressure from low international commodity prices. The current account deficit is projected to narrow in 2016 with reduced imports and increased tourism. The fiscal deficit is projected at 5.7% of GDP for 2016.

Following a deterioration in macroeconomic performance in 2015 amid a challenging external environment, the Government has taken several policy measures to arrest the situation. The Cabinet passed a fresh set of proposals on income tax and Value Added Tax (VAT) to reduce the targeted deficit for 2016 from 5.9 to 5.4% of GDP. Monetary policy was also tightened to tame the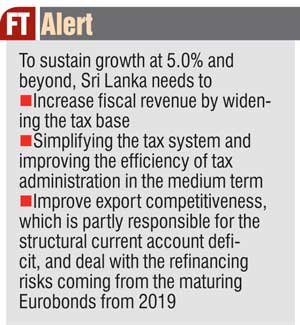 stubbornly high credit growth and rising inflation.

The economy grew 3.9% in the first half of 2016 compared to the corresponding period in 2015. Year-on-year inflation jumped to 4.0% in August while core inflation remained high at 4.1%. The fiscal deficit in the first five months improved marginally on account of increased tax collection. However, a Supreme Court ruling halted the implementation of new VAT proposals in July, one month after they were introduced. The external current account improved in the first quarter thanks to a reduced oil bill and increased tourism. Although FDI continued to underperform, net inflows to the government securities market and new Eurobonds boosted gross official reserves, though the reserve cover continues to be low.

While the new International Monetary Fund (IMF) program for about $ 1.5 billion will offer a policy anchor for macroeconomic stability and structural reforms, the World Bank approved a $ 100 million Development Policy Financing (DPF) operation to provide budget financing and to support reforms in competitiveness, transparency, public sector and fiscal management. This operation was closely coordinated with JICA, which provided an additional $ 100 million budget loan supporting the same policy reforms.

To remain on this growth path and sustain its growth at 5.0% and beyond, Sri Lanka needs to increase fiscal revenue by widening the tax base, simplifying the tax system and improving the efficiency of tax administration in the medium term, improve export competitiveness, which is partly responsible for the structural current account deficit, and deal with the refinancing risks coming from the maturing Eurobonds from 2019.

The Update suggests that the current economic reform process has to weigh policy trade-offs. It is important that the Government designs its fiscal consolidation path while mitigating the impact on the poor and improving competitiveness.

Removing VAT exemptions, many of which tend to disproportionately benefit wealthier households, would constitute a positive first step, it says. Replacing them by targeted social expenditure under the social safety net could be a more efficient way to protect the poor at a lower fiscal cost, while simplifying the VAT system, while the increased fiscal space could be used for investment in public health and education provision and infrastructure. Such steps are necessary to maintain broad support for the reform program.

While the economy is unlikely to feel the direct impact of a slowdown in China and the Brexit, continued economic woes in the Middle East, the European Union and Russia could adversely affect Sri Lankan exports and remittances. Tightening global financial conditions could lead to capital outflows and make borrowing more expensive, the Update warns.

The Update noted that the in its policy statements, the Government has indicated the need for reforms in the areas of fiscal operations, competitiveness and governance. "These policy reforms, if successfully implemented could help the country reach Upper Middle Income status in the medium term," the Update added.