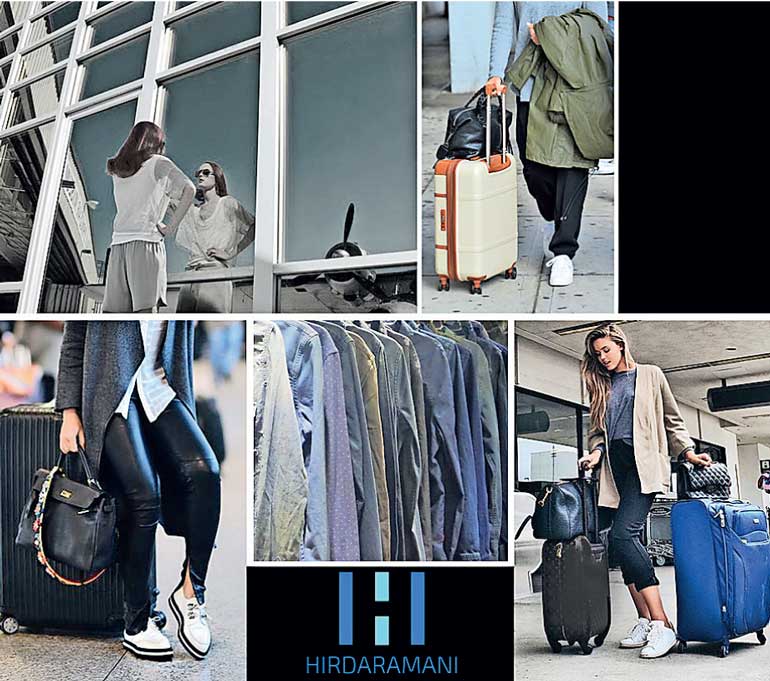 Hirdaramani is one of Sri Lanka's leading apparel manufacturers with outstanding sustainable fashion tech. This year, as Sri Lanka Design Festival opens up the international platform Mercedes-Benz Fashion Runways to the Lankan apparel makers, Hirdaramani will be presenting a statement collection that combines the best of their strengths.

With the overall runways themed under 'Travel Fashion' to bring forth a brand new identity for Sri Lanka led by the apparel industry, the Hirdaramani collection will present the cutting-edge style ideal for airport check-in.

The idea is centred around Sri Lanka providing all-rounder fashion solutions for the modern traveller set on the country's developing design talent and already set infrastructure for high-tech and sustainable apparel manufacturing; Hirdaramani comes in with the first collection for this travel fashion line-up to present the ultimate looks for the modern traveller as they begin their journey by checking-in at the airport. The collection by Hirdaramani will channel a youthful spirit with easy-to-wear silhouettes and comfortable, relaxing material textures.

Hirdaramani industrial cluster comes from a heritage that spans beyond a century and today, the group stands as one of the game-changing apparel makers, especially in the area of sustainability. Not only did their award-winning eco-friendly factory 'Mihila' become the first apparel factory in Asia to be awarded the CarbonNeutral certification, but also the very first custom-built green factory in the world.

As apparel makers, the Hirdaramani DNA lies in their outstanding fit, style, process and quality trusted by fashion giants such as Marks & Spencer, Calvin Klein, Nike, Levi's, Adidas and Tommy Hilfiger. Hirdaramani's capabilities in giving complete fashion solution from the point of design to finishing, lies in the fact that their infrastructure is a fully integrated one that includes a multitude of techniques from screen and heat transfer prints, embroidery and specialty washes, to getting the final packaged product out.

Hirdaramani is best known for their speciality in knit and woven garments for easy, casual styles as well as jeans as well as for their use of modern textile laboratories for colour fastness that utilises the best available technology.

Today the Hirdaramani excellence extends beyond Sri Lanka with thirty-eight facilities at home, Vietnam, Bangladesh and Ethiopia and takes forward Sri Lanka Apparel ideals of ethical employment, sustainable manufacturing and community empowerment across their operations.

Hirdaramani's take on airport check-in style will be presented on Sri Lanka Design Festival's Mercedes-Benz Fashion Runways on November 5th at the SLECC, Colombo. The collection will set the tone for the kind of travel style that Sri Lanka can present with the integration of apparel technology for design, detailing and finishing; the collection will be streamed live on the runways and present the new identity of Sri Lanka fashion and apparel as a destination for travel style.

Following the runways, Sri Lanka Design Festival will work with Hirdaramani and the rest of the industry to leverage on the influential audience at the runways consisting of retailers, sourcing specialists, fashion thought leaders, regional manufacturers and media to push in the commercial evolution of the collections.

The Mercedes-Benz Fashion runways featuring Hirdaramani will be hosted as part of Sri Lanka Design Festival by AOD in partnership with DIMO hosting Mercedes-Benz Fashion Runways, Coats Thread – Official Thread and Zip Partner, GT Nexus – Official Technology Partner, HNB – Official Banking Partner, Mount Lavinia Hotel – Official Host, Wijeya Newspapers Group – Print Media Partner, Just-Style – International Media Partner, Free Lanka – Official Beverage Partner, Secquoro – Business Transformation Partner, Salon Kess – Official Hair & Make up Partner and We Are Designers as well key apparel industry participants MAS, Hirdaramani, Timex, Star Garments , LICC, MRC, Orit, Innovative Knits, EKKO, Union Apparel, Penguin, Lanka Leather, Rakshaa, Tee Jay Lanka, Avirate and Vogue Tex. The event is endorsed by the Joint Apparel Association Forum.

For more information, contact the SLDF secretariat on 076 777 0306, 5867772-3 email info@srilankadesignfestival.com or walk in between 9am -5pm to the Sri Lanka Design Festival Secretariat at AOD, 29, Laurie's Road, Colombo 04.