Cabinet yesterday appointed a subcommittee to make proposals on amendments to the Muslim Marriage and Divorce Act, which allows girls under the age of 18 to be married.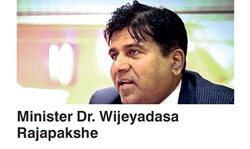 Responding to questions from the media, Law and Order Minister Sagala Ratnayaka insisted that increasing the age of marriage for girls of all ethnicities in accordance with international standards was important for the human rights record of Sri Lanka, which would be evaluated by the European Union before granting GSP+.

"Muslim Ministers will also be part of this committee," he assured. Allowing underage girls to be married and thereby denying them education and other rights has been campaigned against by activists for years in Sri Lanka.

"As some provisions in Muslim Law, including the minimum age for marriage, are not conformed to the norms stipulated in some international conventions which Sri Lanka is holding the membership, it is necessary to amend those provisions," the Cabinet statement said.

Accordingly, the proposal made by Justice Minister Dr. Wijeyadasa Rajapakshe to appoint a Cabinet Subcommittee to make proposals to the Cabinet of Ministers regarding suitable amendments to the Muslim Marriage and Divorce Act, was approved by the Cabinet of Ministers.

Prime Minister Ranil Wickremesinghe, upon his return from a visit to Brussels, recently expressed confidence that Sri Lanka would regain GSP+ by April next year.