The Government is dedicated to guaranteeing equal rights and justice, according to the Speaker of Parliament Karu Jayasuriya

The Speaker said this while addressing the 135th Assembly of the Inter-Parliamentary Union (IPU) in Geneva on Tuesday.

"In my own country Sri Lanka, which has emerged from 30 years of protracted terrorist conflict, we are mindful of the necessity to rebuild trust and harmony through reconciliation which is essential in building peace and preventing the recurrence of violence and conflict. I must state that the task ahead for Sri Lanka on how to reconcile people after such a long conflict is a challenging one as it involves balancing the issues of reconciliation and accountability which are interdependent," he said.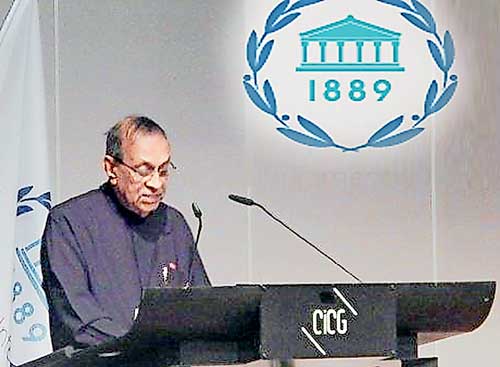 The Speaker said that the Government was dedicated to strengthening the human rights of all while also bolstering the rule of law by installing the necessary legislation and institutional mechanisms such as independent statutory bodies or commissions and parliamentary mechanisms like the standing and oversight committees and, more importantly, independent appointments to the mentioned institutions, including to the Human Rights Commission of Sri Lanka.

"In August 2015, following the General Elections, a momentous change in the style of governance occurred with the setting up of a National Government between the two main political parties of the country that had governed the country since its independence in 1948. The President and the Prime Minister, while giving leadership to their two respective political parties, heralded a new culture of consensual politics in Sri Lanka. The appointment of the leader of the Tamil National Alliance (TNA) to the office of the Leader of the Opposition was another distinct moment that demonstrated respect for equality and equity for all citizens," he said.

The Speaker said that Sri Lanka's dedication to guarantee equal rights, justice and dignity for all was the underlying objective of initiating an inclusive process of public consultation aimed at drafting a new Constitution for the country.

"The Cabinet of Ministers approved the appointment of a Public Representatives Committee comprising 20 members belonging to all ethnic and religious denominations of the country for this purpose. Significant momentum has been achieved in the process when the Parliament adopted a resolution in March 2016 by establishing the Constitutional Assembly and in April this year I chaired its first meeting. The entire Parliament will now sit as a Constitutional Council to formulate this new Constitution," he said.

He also noted that a consultation process on preparing a National Action Plan for the Protection and Promotion of Human Rights (NHRAP) for the period 2017-2021 was ongoing under the guidance of an Inter-Ministerial Committee on Human Rights. (Colombo Gazette)