By Nisthar Cassim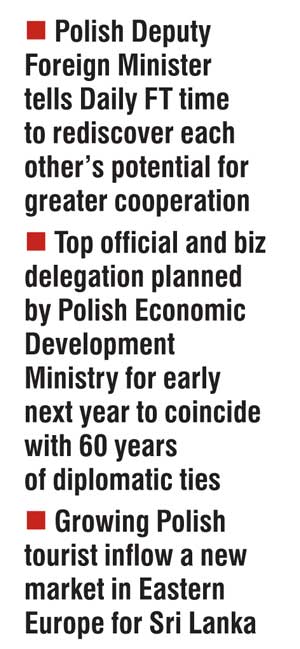 in Warsaw, Poland

Poland last week stressed there was big scope for greater economic cooperation with Sri Lanka and it was time for both countries to explore their potential in tandem with improving ties.

"I see a lot of potential for economic cooperation, for more trade as well as tourism," Polish Deputy Foreign Affairs Minister Joanna Wronecka told the Daily FT during an interview in her office in the capital Warsaw.

She emphasised that stability and a peaceful setting made Sri Lanka most attractive for Polish tourists and the new political regimes in both countries offer a golden opportunity to explore new ideas for stronger mutually beneficial ties.

The European Union's sixth-largest economy and the biggest in Central Europe, Poland saw the arrival of a new Government in October last year, two months after Sri Lanka elected a new unity Government.

Sri Lanka and Poland will celebrate the diamond jubilee of their diplomatic ties next year and Warsaw is keen to step up cooperation with Sri Lanka as part of its overall push to engage more with Asia.

A high level official and business delegation is being organised by the powerful Economic Development Ministry of Poland early next year. Poland's Deputy Prime Minister Mateusz Morawiecki is also the country's Economic Development Minister and Finance Minister.

Wronecka said the 60th anniversary of diplomatic ties will also be a good opportunity to foster cultural cooperation and greater goodwill among the people.

"Sri Lanka tourism can also get a boost with coverage in Polish national media both electronic and print next year," the Deputy Foreign Minister told Daily FT, which was invited by the Polish Government to make a special visit arranged by the New Delhi-based Polish Ambassador for Sri Lanka Tomasz Lukaszuk and Honorary Consul General in Sri Lanka Krishan Balendra.

Tourist arrivals from Poland have risen by 7.5% to 9,836 in the first nine months of this year.

Poland's performance is impressive given the fact that overall arrivals from Eastern Europe are up only 4% to 105,311 from January to September 2016. With a population of about 38 million, Poland's per capita income is $ 13,400.

Last year there were 13,245 Polish tourists though marginally down by 1% over 2014 in which year arrivals shot up by 38% making Poland the third-largest Eastern European source behind Russia and Ukraine. Overall arrivals from Eastern Europe in 2014 were 154,153, up by 22.6%.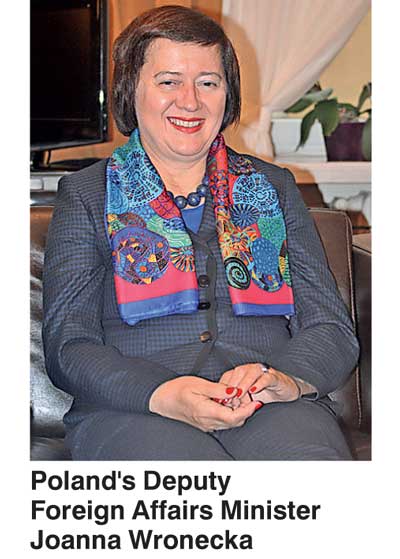 Sri Lanka's exports to Poland was a high $ 281 million in 2011 (2.7% of total) but has declined since then to $ 194 million (1.8% of total) last year. However, bilateral trade is in favour of Sri Lanka with imports from Poland being much less. Poland is also a growing market for Ceylon tea with exports ranging around $ 16 to 19 million per annum in the past few years. Apparel exports ranged around $ 9 million to $ 12 million per annum.

In October last year Sri Lanka and Poland signed two international agreements in Colombo on cooperation in tourism and avoiding double taxation. This was during the visit of then Deputy Foreign Minister Leszek Soczewica. He was accompanied by a delegation of Polish businessmen.

The two agreements were aimed at facilitating cooperation between the two countries since a permanent and stable treaty and legal base provides a sound basis for the development of bilateral relations.

During the Deputy Minister's visit John Keells Holdings Vice President Krishan Balendra was appointed the Honorary Consul-General for Poland in Sri Lanka, succeeding his father, illustrious business leader Ken Balendra, who held the post for 15 years.

Fresh from a three-nation Asian tour and attending the 21st EU-ASEAN ministerial meeting in Bangkok a fortnight ago, the Deputy Minister said: "I believe it is time for Poland and Sri Lanka and also Asia in particular to rediscover each other's potential for mutually beneficial cooperation. We can do lot more and we should do lot more," she added.

Incidentally, her boss, Foreign Affairs Minister Witold Waszczykowski, was in Korea where the two countries signed a four-year pact to strengthen economic cooperation last week. Korea is Poland's second-biggest trade partner in Asia after China. Polish national carrier LOT began direct flights between Warsaw and Seoul on Wednesday with the initial focus being thrice a week.

In a reflection of growing keenness to engage with Sri Lanka, a Polish delegation took part in the recently concluded World Export Development Forum in Colombo. Ambassador Lukaszuk, in his speech at the economic forum, presented information on the Polish economy and companies - yacht and bus manufacturers. He also took part in the meetings with members of the Government including the Minister of Special Assignments Dr. Sarath Amunugama, Minister of Industry and Commerce Rishad Bathiudeen, Deputy Minister of Foreign Affairs Dr. Harsha de Silva and new EU Ambassador in Colombo Tung-Lai Margue. Dr. Amunugama also visited Poland earlier this month to speak at a forum on Asia Pacific in Warsaw.

At the October 2015 landmark election in Poland, the largest opposition party, the Law and Justice party (PiS), secured a 51% majority for the first time in over two decades, against the governing Civic Platform (PO) which took office in 2007 and secured two terms. Beata Szydło succeeded Ewa Kopacz as the Prime Minister of Poland.

The new Government won a populist vote as it targets inclusive economic growth with a focus on the poorer segments of society. According to the World Bank, the new Government's policy measures include generous family spending under the Family 500+ program and the introduction of an hourly minimum wage, while additional social spending is to be funded from improved tax compliance and the introduction of sectoral taxes on financial institutions and large retailers.