The move by business tycoon cum shareholder Harry Jayawardena to prevent the private placement of 10% stake in HNB to the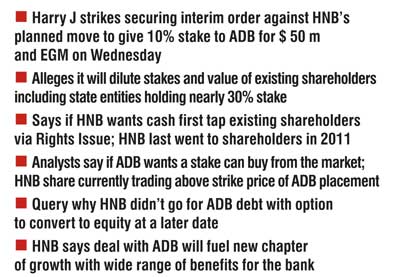 Asian Development Bank analysts claim will indeed save nearly Rs. 1 billion in immediate value for State-owned entities holding shares in the second-largest private bank.

On Thursday, Jayawardena via Stassen Exports, got an interim order from the Commercial High Court restraining HNB from going ahead with an Extraordinary General Meeting (EGM) on Wednesday 26 October to get shareholder approval for the private placement valued at $ 50 million (over Rs. 7.2 billion) until the final determination on the matter.

The Interim Order issued by Commercial High Court Judge Shiran Gunaratne stayed the HNB Board of Directors "from holding and/or proceeding with the Extraordinary General Meeting of the 1st Respondent scheduled for Wednesday, 26th October 2016 or any time thereafter for the purpose of obtaining the approval of shareholders to issue shares to the ADB."

Stassen Exports alleged that HNB had made no announcement to existing shareholders of a need for capital infusion. In the event of the share issue to ADB going through, ADB would have gained 9.9% of voting and dividend rights, a strange development according to the petitioner since no rights issue was announced to the existing shareholders. According to Jayawardena, the private placement would also effectively result in a depreciation of share value and would therefore directly hurt existing shareholders.

Harry J's recourse to the legal system came following the HNB Board, after what some described as "a very stormy meeting" on 31 August, approving the issuance of shares for $ 50 million to the ADB by way of a private placement with the valuation of each share being based on the 30-day average trading price immediately preceding the EGM but restricted to a price band between Rs. 190 and Rs. 220.

Analysts opined that if the private placement goes through the Government-controlled shareholding in HNB would reduce considerably. Given the indicated placement price, current shareholders could lose a lot of money. "The Government alone would lose close to Rs. 1 billion," they claimed.

The first announcement of HNB's move was made on 31 August. Since then the HNB share price has gone up to Rs. 229.70 as of last Friday from Rs. 225 at end August and Rs. 212 at the beginning of August. HNB's 52-week highest price is Rs. 233.

A high net worth shareholder claimed that the private placement was an attempt to dilute the Government shareholding which at present is around 30% and to prevent any attempt to vote out the directors appointed by the previous regime and highlights the need to appoint Directors who have good business and financial acumen.

Among the shareholders are several State-controlled entities such as Sri Lanka Insurance Corporation (Life as), Sri Lank Insurance Corporation (General), the Employees' Provident Fund (EPF) and the National Savings Bank, holding 9.67%, 4.96%, 9.76% and 2.89% of shares respectively.

Harry Jayawardena controls around 18% (of which 5.7% is unregistered). Company analysts noted that the bank and the Central Bank have so far failed to make a final determination on this unregistered shareholding, an issue that has remain unresolved for years. HNB in total has 4,619 voting shareholders (including 419 foreign) and 10,660 non-voting shareholders.

"If the ADB wants to buy shares, like any other shareholder, they must buy in the markets at the prevailing price and not at a hefty discount," the high net worth investor emphasised.

Another view is that HNB instead of diluting existing shareholdings could have gone for a debt instrument from ADB with the option of converting to equity at a later date based on eventual performance and the use of funding provided by the multilateral donor.

Market analysts also concurred that HNB could have gone to existing shareholders to raise the required cash. HNB last went to shareholders to raise capital in 2011 with a 1 for 10 Rights Issue under which voting shares were priced at Rs. 219.50 and non-voting at Rs. 119.50.

Some analysts also went to the extent of warning that the Government officers approving these arrangements could be held accountable at a future date for their actions, as in the case of a recent arrest involving the directors in a State institution.

The lawyers appearing for Harry J on Thursday were Nihal Fernando, PC with Ms. Romali Tudawe, Harshula Seneviratne and Rajindra Jayasinghe, Attorneys-at-Law, instructed by Upendra Gunasekera, Attorney-at-Law.

In the petition, Stassen referred to the Company's Act Section 53, which states: "Subject to the company's articles, where a company issues shares which rank equally with or above existing shares in relation to voting or distribution rights, those shares shall be offered to the holders of existing shares in a manner which would, if the offer was accepted, maintain the relative voting and distribution rights of those shareholders."

While conceding that the Companies Act provides for a company to issue shares to such persons as it considers appropriate, the petitioner had pointed out that Section 53 of the said act provides for pre-emptive rights of existing shareholders with respect to the new issuance of shares.

HNB's Deputy General Manager Legal and Board Secretary Thushari Ranaweera, in a filing to the CSE on Friday, said the bank has not been served with any notice of an Enjoining Order as of Friday morning.

In a statement prior to Harry J's action, HNB said earlier this month that the proposed $ 50 m investment by ADB will fuel a new chapter of growth.

It said the impending breakthrough partnership with the ADB is anticipated to open up new business opportunities across multiple areas including SME, microfinance, project finance and renewable energy.

Fuelled by this fresh infusion of capital and guided by the ADB's own extensive technical expertise, HNB aims to further strengthen its systems and processes.

In the statement, HNB MD/CEO Jonathan Alles said the technical assistance that would be available through this strategic investment will power a complete transformational process within the organisation in order to further augment HNB's position in the digital space.

HNB will also be in a position to harness technical expertise to further refine its stringent risk management framework and drive continuous process improvement.

ADB will also provide HNB with access to a wealth of knowledge on world-class governance standards, corporate social responsibility and sustainable banking practices which HNB aims to integrate into its own business model, risk management framework and governance practices going forward.

Additionally, the capital infusion will support HNB, as it moves towards implementation of more stringent capital adequacy requirements stipulated under the BASEL III regulatory framework. ADB's investment in HNB will serve to provide a sizeable capital buffer and position HNB as one of the best capitalised commercial banks in Sri Lanka.

This landmark partnership with ADB is also anticipated to significantly raise the profile of HNB on the global stage, potentially opening up new avenues for the bank to raise funding from international sources at attractive rates and long tenors, an area in which HNB has already demonstrated prolific success, most recently in relation to the raising of $ 185 million from multilateral financial institutions including $ 100 million from ADB.

Furthermore, this strategic partnership will also widen the horizons for inorganic growth for HNB beyond the shores of Sri Lanka and the new investment to be made by the ADB will ultimately deliver enhanced value to all the stakeholder of HNB, the statement from the bank said.

ADB, based in Manila, is dedicated to reducing poverty in Asia and the Pacific through inclusive economic growth, environmentally sustainable growth and regional integration. Established in 1966, ADB in December 2016 will mark 50 years of development partnership in the region. It is owned by 67 members – 48 from the region. In 2015, ADB assistance totalled $ 27.2 billion, including co-financing of $ 10.7 billion.

In the first half of this year HNB Group continued its outstanding performance with Group PBT improving to Rs. 10 billion. The bank's PBT for the period improved to by 50% to Rs. 9.1 billion while the bank's PAT grew by 48.6% to Rs. 6.4 billion.

The bank's operating profit before VAT, NBT and corporate taxes increased by 48.3% to Rs. 10.8 billion. The asset base of the bank grew by 24.8% yoy and 9.4% during the first six months of the year to reach Rs. 793.1 billion.

The HNB Group also recorded outstanding performance with Group PAT growing by 54% yoy to reach Rs. 7 billion.