Revenue based fiscal consolidation and simplified tax policy at core of growth and investment
By Charumini de Silva

Straight talking IMF head in Sri Lanka Eteri Kvintradze yesterday encouraged the Government not to falter in its measures for revenue based fiscal consolidation calling for steep cuts in tax exemptions to bring in a simplified tax policy that would attract investment.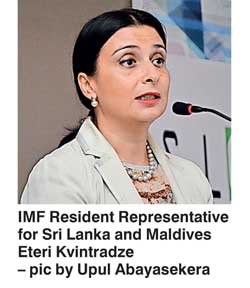 Speaking at the inauguration of the Sri Lanka Economic Association Annual Sessions she said that tax revenue in Sri Lanka is one of the lowest in the world. Despite past reforms and having a number of tax rates higher than the global standards, the revenue collected by tax still remains extremely low.

"Tax collection in Sri Lanka has steadily declined over the past decade and revenue kept falling behind targets. Tax exemptions, rate reductions, tax holidays; special provisions are exceptionally high in Sri Lanka. For example, income tax contains many special concessions for particular tax payers that number around 200, which makes income tax inefficient, and inequitable in raising revenue," she pointed out.

An analysis done in 2012 and 2013 on corporate returns found that tax revenue has multiple exemptions, which is equivalent to around 1.3% of GDP that actually exceeds the corporate tax collection by about 30%.

Kvintradze emphasised fiscal consolidation needs to be revenue based, which also means breaking from the past. "When undertaking fiscal consolidation, the issue is not whether fiscal targets can be met, but whether it could be met in a growth friendly manner where budgets for social and infrastructure development are fully implemented. A revenue based fiscal consolidation will enable government to devote more resources to health, education, infrastructure and social spending which leads to growth." Although Sri Lanka has shown steady reduction in poverty and continuous improvement in social development indicators, there is considerable room for improvement, she said.

In order to take full advantage of introducing modern tax systems (RAMIS), it was important to have the tax policy simplified, she added.

"Tax policy reforms cannot be implemented in a vacuum, thus the Government needs to bring in the corporate community to assure acceptability as well as the capability for new revenue systems. It also means breaking away from the past," she reiterated.

Given Sri Lanka is at a critical transition point with rejuvenated democracy and peace, with best quality infrastructure in South Asia, and an educated labour force, Kvintradze stressed that the country has everything to support a fast growing private sector development.

She said liberalising the business environment is an important catalyst for private sector led growth, which again goes back to discussion of tax policy reforms. However, having predictable, fair tax systems is essential for both local and foreign investments. "Having those in place will remove the investment uncertainties about Sri Lanka."

The theme of this year's Annual Sessions is 'Fiscal reforms: An imperative for sustained growth' and the four Technical Sessions will be held today at Taj Samudra, Colombo. At the Technical Sessions the present fiscal policy and the resultant resource gap will be pinpointed. The magnitude of the debt crisis and the policy environment that was necessary to encourage private investment – both domestic and foreign – will be among the issues on the agenda.
Chairing the Technical Sessions will be University of Peradeniya Professor PGIA Dr. Nimal Sanderatne, Institute of Policy Studies (IPS) Executive Director Dr. Saman Kelegama, Economic Advisor to the President and formerly Economist, World Bank Sarath Rajapathirana, National Human Resource Development Council Chairman Dinesh Weerakkody and Sri Lanka Insurance Corporation Ltd Chairman Hemaka Amarasuriya.
Papers will be presented by Central Bank Assistant Governor K. M. M. Siriwardena; Senior Lecturer Dr. Priyanga Dunusinghe; Institute of Policy Studies Deputy Director Dr. Dushni Weerakoon; Prof. of Economics Ven. Wimalaratana; Research Economist Dr. Shan Fernando; Sri Lanka Economic Association Vice President Malraj Kiriella; Secretary General of Foundation Asia and former Director and Chief Economist at UN ESCAP Dr. Ravi Ratnayake; former Dean, Faculty of Graduate Studies, University of Colombo Prof. Sunil Chandrasiri; and BOI Research Officer Jeewani Sewwandi.
Discussants will be Central Bank Additional Director, Economic Research, Dr. Yuthika Indraratne, University of Colombo Professor of Economics Prof. Srimal Abeyratne, Ceylon Chamber of Commerce former Chairman Dr. Anura Ekanayake, Research Fellow and Head of International Economic Policy Research at the IPS Dr. Janaka Wijayasiri.
---
Structural reform should support fiscal consolidation
Prominent economist cautions against rushing on ETCA but focus on multilateral trade and increased competitiveness
Even though fiscal consolidation should remain the key focus of the Government it should be underscored by stronger structural reform and a streamlined regulatory environment, insisted Sri Lanka Economic Association President Prof. S. Indraratna yesterday.

Addressing the inauguration of the Sri Lanka Economic Association's Annual Sessions he called for the Government to implement stronger good governance policies as a crucial step for winning investor confidence.

"One should not think that fiscal reforms are sufficient or overlook the fact that they must be accompanied by incentive and structural reforms especially with respect to trade and other real sectors, the regulatory environment and access to credit by small and medium entrepreneurs," he told the gathering. He praised the Central Bank for being proactive on the monetary sector and taking several measures to tighten monetary policy and cautioned against fiscal profligacy with a view to facilitating the conduct of monetary policy.

"With regard to trade policy, Sri Lanka must not rush to embrace bilateral trade agreements, like the ECTA, but focus more on regional and multilateral trade. At the same time, Sri Lanka should enhance its competitiveness by improving product quality and cost via improvement in productivity, and adhering to standards needed to access international markets," he added.

"I hope the Development Framework or Plan, which the Prime Minister is scheduled to announce soon, would come out of a home-grown model determined by the endowment of the country's natural and human resources, its strategic location and its insularity and small size."

Prof. Indraratna also cautioned the Government against living beyond its means stressing that continued loan dependent growth would push the country to a level where it would be caught in a debt trap. He also called on the Government to use qualified local professionals in policy formulation.

"In this context, SLEA is glad that the Prime Minister, according to the media, has thought it fit of appointing a committee comprising our own local economists and other professionals rather than getting down foreign experts."