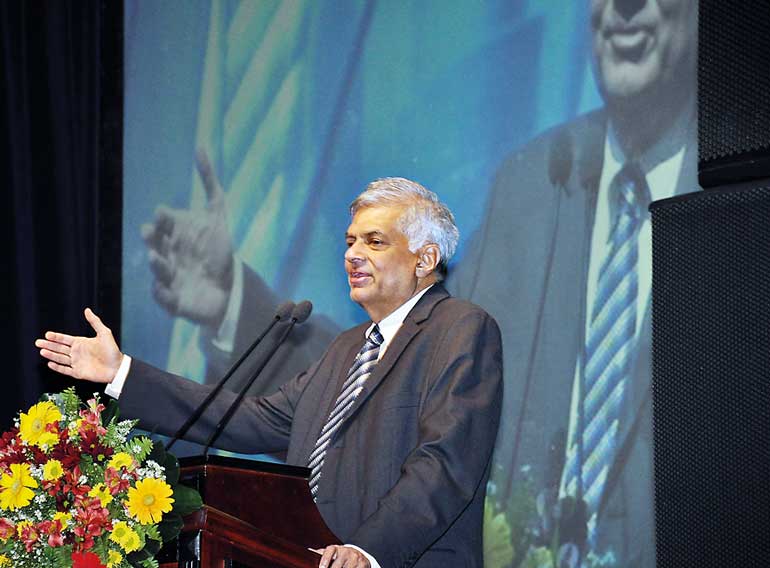 Prime Minister Ranil Wickremesinghe

– Pic by Lasantha Kumara
Says massive foreign reserve boost in the offing after negotiations wind up next month
Asian economic boom once in a life time opportunity for Sri Lanka
Wants A/L students to have option of picking science subjects, in talks with Japan and US for tech universities
By Devin Jayasundera

An upbeat Prime Minister Ranil Wickremesinghe yesterday said Sri Lanka's foreign reserves would be boosted by over $1 billion when proposed Public-Private-Partnerships (PPPs) for the Hambantota port and airport are wound up next month.

Following Wickremesinghe's visit to Beijing in April 2016, it was announced that the Sri Lankan Government had proposed debt-equity swaps for the Hambantota mega infrastructure projects. Subsequently it was announced that the Government was in talks with Chinese companies to take over the debt and management of the port and airport that were built on Chinese loans taken by former President Mahinda Rajapaksa.

"Certainly, the port is going to be over a billion (dollars) and the airport will be another hundreds of millions. We have asked for upfront payment," Wickremesinghe said, addressing the opening session of the Institution of Engineers.

"That is all money coming to our reserves at a time when the global economy is weak" he added. According to the Prime Minister's office these two transactions are expected to constitute non-debt creating FDI inflows which would increase unencumbered official reserves significantly.

Sri Lanka faced an impending balance of payment crisis last year and early this year but negotiated an Extended Fund Facility (EFF) of $1.5 billion with the International Monetary Fund (IMF) to stabilise the economy. In August 2016 the country's official reserves increased to $124.7 million to stand at $6.6 billion, up from $6.5 billion at the end of July.
Echoing his recent comments at the World Economic Forum in India, Wickremesinghe pointed out that global economic power is shifting to Asia, emphasising South Asia in particular. He stressed that Sri Lanka should take advantage of the current and future economic conditions and integrate with its neighbours to boost the country's economy.

"This is a once-in-a-lifetime opportunity for us. If we miss this, we are going to miss it altogether," said Wickremesinghe.

With technology becoming one of the key areas of a country's economic development, the limited size of the local talent pool has been a major deterrent in attracting multinational tech companies to set up offices in the Sri Lanka."One of the constraints that I see for development is the shortage of technological personnel," said Wickremesinghe. "To promote innovation we are going to need more engineers. Without innovation there's no point of undertaking all this development," he added.

According to Wickremesinghe, the current education system does not offer the flexibility for students to mix up their courses between science and non-science streams at the Advanced Level stage. He believes this unnecessarily restricts the opportunity for non science students from commerce and arts streams in enrolling in science subjects "We are in talks with the Ministry of Education. We want to have more science teachers so every student who likes to, can take a science subject. Let's not stream them into Science, Arts and Commerce," he said.

Wickremasinghe also lamented the lack of high level technology institutions in the country stating that the focus of universities has always been at the undergraduate education level. He requested professional bodies to propose their plans to the government revitalize the research and development efforts of local institutions. "How do we promote post graduate and post doctoral research in our universities what are the structural changes that need to be done."

In referring to the only fully fledged technology universities in the country Moratuwa and Peradeniya he said; "If you see the enormity of the problem you will realize that two universities will not be sufficient". To expand the number of institutions he added that the Government is in discussions with leading Japanese and American institutions to set up branches in the country.
---
Techno-cities to deliver tech enhancement
With the first phase of the techno-city launched last month, the Government believes that the rapid infrastructure development efforts targeting scientific research will enable a more conducive environment for the growth of the technology sector of the country.

"Once the spatial transformation happens the high-tech input needed in structural transformation of our economy will certainly follow.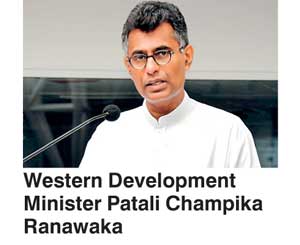 The geographic concentration of high tech facilities and industries in a single geographic zone will start delivering its dividends. The high tech component of our economy will also grow," said Megapolis and Western Development Minister Patali Champika Ranawaka in his address at the annual sessions of the Institute of Engineers, Sri Lanka.

The scientific and industrial zones will be complemented with its own schools and quality healthcare facilities to attract professionals and their families away from the generally convenient cities. "Engineers and other professional working in these zones will have the environment for productivity, contributing their maximum output to the economy. They will not need to worry about sending students to a good school two hours away without having to travel with probably half a days' leave" said Ranawaka.

The Arthur C. Clarke Institute for Modern Technologies is one of the institutions that is already inline to set up at the newly launched techno-city in Pitipana, Homagama, according to Ranawaka. The institute will be primarily working on creating a space hub for receiving, distribution and transformation of satellite data. Sri Lankan universities would also to be part of this initiative with the Universities of Sri Jayewardenepura and Kelaniya to set up two new engineering faculties at the proposed science park, which will be established by the Ministry of Science and Technology and Research.

According to Ranawaka the science park and tech cities are developed as eco systems for scientific research. "Advanced technology is a broad term which applies to diverse domains. However they are core-technologies that are instrumental in driving the rapid technological gains which could propel high tech industries that impacts a diverse spectrum of other disciplines. As a result they boost the overall base of national capabilities of advanced technology."

Nanotechnology, biotechnology, robotics and automation, ICT, advanced electronics and gene technology are some of the core technologies that would have research centres in the tech-cities, according to Government plans.