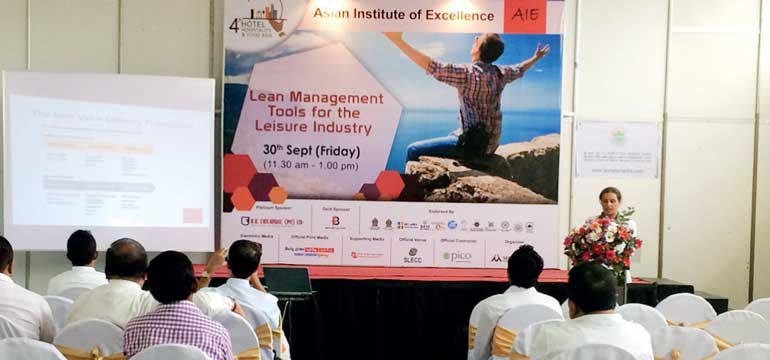 At the recent Hospitality and Food Asia Exhibition held at the SLECC on Friday 30 September, a joint presentation on Lean Tools was set up by the FCCSIL and ASMET and facilitated by the Asian Institute of Excellence on Lean Tools for the leisure sector.

FCCSIL Director Armil Sammoon addressed the audience at the outset. He mentioned that hotels need to provide international standards in their quality of service to attract customers. This covers areas such as rooms, F&B, etc. This is going to become increasingly important in the next three years. Adding value to the overall offering will be key to attracting returning customers.

Prebuddu Jayasinghe of ASMET stressed that the SME sector in Tourism in Sri Lanka was becoming increasingly significant and provided a valuable contribution. Quality standards were very important in this area.

The presentation addressed the fact that Sri Lanka needs to be a higher value destination at all categories for it to both delight and attract new tourists. Lean tools enable all providers in the industry to focus on efficiency by standardising all their operations and bringing in a problem solving culture. This is important for hotels, tour operators, etc and they can commence this journey by focusing on a specific department and analysing the steps in their processes. These then can be categorised into value addition and non value addition steps and efficiencies thereafter brought in. Additional productivity, cost savings and quality can improve significantly within a few months.

Lean tools are already being used by some of the largest operators in the leisure sector both nationally and internationally to ensure that clients receive the highest satisfaction for the money they spend and the time is opportune for Sri Lanka to use these.

Travice Ondatchi, Director of Mercantile Investments and Finance who own large hotels such as the Nilaveli and Tangerine Beach Hotel, attended the workshop and stated that it was a great eye opener and had very practical applications. He believes that this seminar has opened his eyes to spot a different kind of 'waste' and has highlighted to him what value adding steps really mean compared to non value adding activities. He mentioned that all his managers and supervisors should understand the lean concepts so that they know how to add value to their hotels.