UN Chief Ban Ki-moon hailed Sri Lanka's "deepening" efforts to heal the wounds of war, in his final opening address to the UN General Assembly in New York yesterday.

Opening the 71st Session of the UN General Assembly on Tuesday (20), the UN Secretary General used Myanmar and Sri Lanka as states in now in transformation from conflict and political turmoil.

"In Myanmar, the transition has entered a promising new phase. In Sri Lanka, post war healing efforts have deepened," Ban told the Assembly.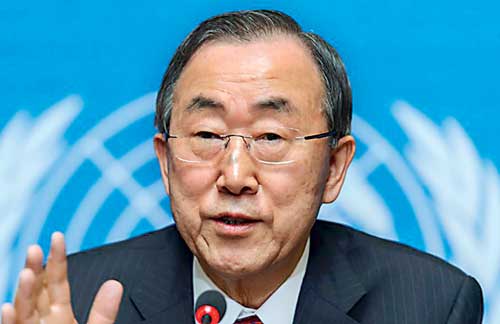 He said that in both countries, true reconciliation rests on ensuring that all communities – minorities and majorities alike are included in building a new union.

Ban Ki-moon, who is the eighth secretary general of the United Nations, wraps up his second five year term at the helm of the global body at the end of this year.

In his final address to world leaders and representatives of 193 UN Member States, Ban underscored the grave security threats facing the world today.

"Armed conflicts have grown more protracted and complex. Governance failures have pushed societies past the brink. Radicalisation has threatened social cohesion – precisely the response that violent extremists seek and welcome," the UN Secretary General told the assembly.

He called on world leaders to understand that holding office is trust granted by the people and not personal property.

"My message to all is clear: "Serve your people. Do not subvert democracy. Do not pilfer our country's resources. Do not imprison and torture your critics," Ban appealed.

Climate change and the refugee crisis stemming from violence in Syria will be on the top of the agenda at the General Assembly session in New York this month, and the issues were underscored in the UN Chief's speech as he opened the 71st Session.

"Gulfs of mistrust divide citizens from their leaders. Extremists push people into camps of 'us' and 'them'. The earth assails us with rising seas, record heat and extreme storms. And danger defines the days of many." (DB)