Text and pix by P.D. De Silva

'A Guideline for Monitoring Public Funded Projects' written in Sinhala by Senaka Palliyaguruge the Municipal Commissioner of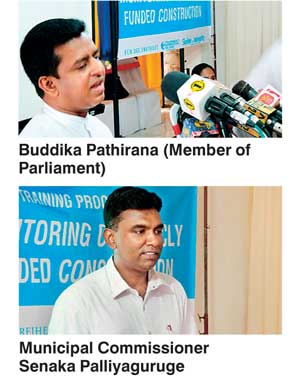 Matara was launched at a function organised by journalists in Matara this week.

The first copy of the book was presented to Journalist Buddika Pathirana (MP) who learnt of the book launch on social media.

"Millions and billions of public funds are wasted on kickbacks and sub standard work. The public should be aware for what public funds are spent on and it is important that the process be transparent," said Palliyaguruge introducing the book.

"I decided to present my book to journalists and media personnel first, as it is they that the public approach to air their grievances and bring misdeeds to light. The book highlights the areas that the public should pay most attention to during project implementation," he added.

"I learnt of this event on social media and decided that I should attend this timely launch," said Parlimenterian Buddhika Pathirana who attended the event held at a hotel in Matara. "The Government is introducing a National Monitoring and Evaluation Policy to minimise corruption and waste of public funds. What matters is not who is correct but what is correct. The prevailing corrupt system should change," he added.

Thushani Kandilpana of Transparency International Sri Lanka and Ranjith Yapa Divisional Secretary Matara addressed journalists who attended the launch. 'A Guideline for Monitoring Public Funded Projects' by Senaka Palliyaguruge has been published by Transparency International Sri Lanka and funded by the Friedrich Newmann Foundation.