By Uditha Jayasinghe

Cabinet approval has been given for the Government to obtain a $ 250 million loan from the Asian Development Bank (ADB) to fund a capital market development program.

ADB would also provide technical assistance in setting up the capital markets. The Cabinet paper, which was presented by Finance Minister Ravi Karunanayake, noted the $250 million would be disbursed in two tranches of $125 million to accomplish policy actions relevant under the structure drawn up by Government institutions to set up capital markets.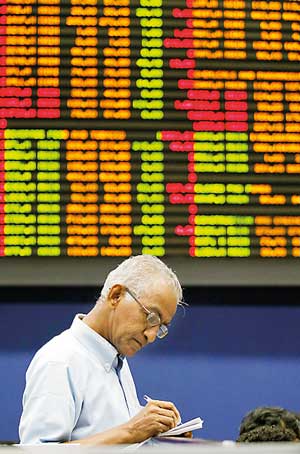 "The main objective of the programme is to ensure that the capital markets in Sri Lanka are more effective in mobilising resources for the economy's financing requirements to better promote growth and development. Under the programme efficient, stable and transparent capital markets are expected to be developed," the Cabinet paper said.

"They will be a highly proficient conduit for resources mobilisation and that are grounded in a strong legal and regulatory framework. Increasing the capacity and size of the capital market through enhanced market facilitation, demand measures and supply measures are also indentified as objectives."

The Finance Ministry will be the executing agency of the programme. Other organisations including the Central Bank, Labour Ministry, Enterprise Development, Securities and Exchange Commission, Insurance Board of Sri Lanka, Employees Provident Fund and the Colombo Stock Exchange have been earmarked as designated implementing agencies.

Following Cabinet approval the Department of External Resources of the National Policies and Economic Affairs Ministry, headed by Prime Minister Ranil Wickremesinghe will facilitate loan negotiations but the Finance Ministry will be the official borrower of the loan. The Monetary Board of the Central Bank would also be consulted on the financial implications of the 15 year loan, the Cabinet paper said.

ADB Country Director to Sri Lanka Sri Widowati in July said that capital market development was one of the areas where the Government has asked the ADB for assistance but the program was still being fine-tuned.

It will include ADB support to improve regulatory oversight and electronic systems, capital market instruments and institutions and the debt market. She also confirmed that the Government has requested assistance to establish an International Financial Centre (IFC) in Colombo but insisted detailed talks had not yet begun.

The Government announced plans to establish the financial centre in June and outlined plans to draw up new regulations covering banking and financial transactions, company law, recruitment and employment rules, arbitration laws and all special regulations and laws needed.