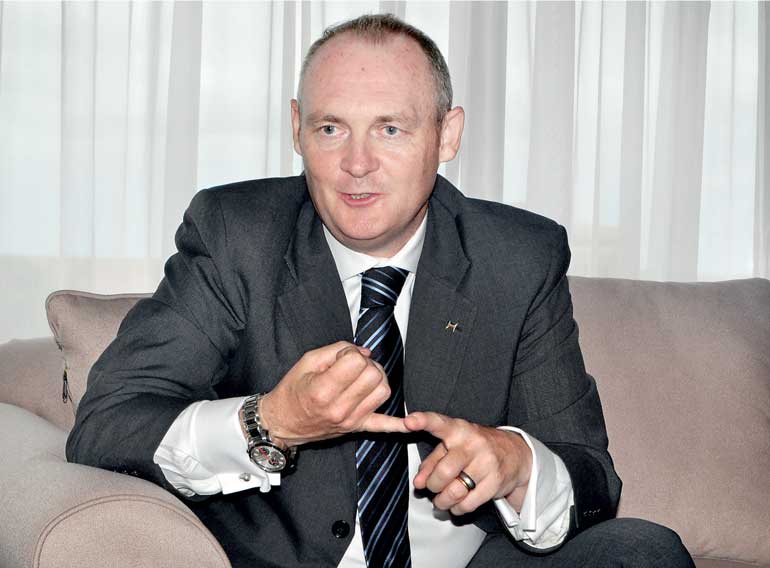 Hilton Worldwide Vice President Operations – South East Asia and India William Costley - Picby Sameera Wijesinghe
By Frances Bulathsinghala

William Costley, Hilton Worldwide Vice President Operations – South East Asia and India, believes that the hotel industry could be a catalyst for change in diverse ways, which includes being an integrated component of holistic development of a country, a contributor to youth leadership and assisting in the eradication of gender stereo types.

He was one of the speakers at last month's Human Capital Summit in Colombo where he highlighted the need to attract investors to

the tourism industry keeping in mind sustainability as a key requirement while emphasising the need for strategic concentration on using the industry to tackle youth unemployment and eradicating cultural bias which limit its prospects.

We examine in detail today key aspects pertaining to the nexus between education, tourism, and the hospitality industry's diverse potential, based on an extensive conversation with Costley. He explains that one of the unique features of Hilton Worldwide is its online university which gives equal opportunity for leadership and professionalism regardless of hierarchy or gender.

He believes that the environment creates behaviour and that the goal of any country would be to create an overall environment aimed at dynamism.

"The provision of knowledge and skills create the correct environs for dynamism to emerge. Ultimately if you take the fundamentals of youth aspirations, across the world and time, it has not changed much. The drive, the unrest, the impatience is all the same across cultures and countries. The biggest change that has been wrought over the years is the harnessing of that drive through technology based accessibility which is revolutionising how we learn. Youth are no longer limited by a traditional classroom and Hilton Worldwide which has worked in developing human capital throughout its 97 years of existence realised this when we started our online Hilton Worldwide University in 2007," he points out, explaining that although it is an hospitality education based online learning portal, it is linked with global universities to enhance the academic credentials granted to its students.

Hilton staff are encouraged to achieve 40 learning hours through a mix of on-the-job, residential workshop/seminars and eLearning. "The online university is specifically for the staff of the Hilton chain and while some modules are compulsory, we have separated several subjects across technical disciplines that make up the hotel industry. As academic technical skills we focus on accountancy and financial revenue management, IT system management, event management and culinary technical skill and cuisine presentation.

"Effective listening skills is a key requirement in the hospitality industry and we emphasise on teaching this skill so that it should be qualitatively practiced by the employee. We have basic, intermediate and senior levels pertaining to learning connected with housekeeping and we are accredited with international hotel schools alongside mainstream universities. We consider soft skills as one of the most important drivers of success and we can say that this may be the same for other professions as well. Communication, planning, organising, negotiation and presentation skills are some of the soft skills that we teach, with emphasis on practical implementation. If we look at the common debates on the mismatch between the formal education sector and employability, it is related to the vacuum in the formal education sector with regard to soft skills," he points out.

He states that for youth who have not finished formal education and who may be from socially disadvantaged backgrounds, the ability to make use of an online platform for learning while working in an international hotel chain is a defining factor in their social and career mobility. The online university which is divided into colleges, according to affiliations and study steams, collectively offer more than 2,500 segmented ecourses.

Gender equality in employment

Costley points out that the question of developing human capital cannot be done justice unless the issue of gender equality in employment is addressed alongside providing equal opportunities of education and capacity building.

Hilton's target is that by 2018, women in the Asia Pacific will represent 20% of all its general managers, the current percentage in the region being less than 10%.

He reiterates that the government and society as a whole must contribute to changing gender stereotypes and misconceptions that limit women entering hospitality education and employment, stating that Hilton has pledged its commitment to promoting equal opportunity for women, with the signing of the CEO Statement of Support for the Women's Empowerment Principles in collaboration with UN Women.

Explaining that this signing highlights Hilton's commitment to support capacity-building and investment in human capital that is sustainable into the future, he details out the three key areas that is being addressed: women in leadership, women as business partners, and community partnerships that invest in women and girls through education, training and professional development.

He points out that this is being done through a number of Women in Leadership workshops and conferences, which has to date engaged more than 270 managers to be harbingers of change for women's leadership. Also pledged is the support to the UN Women-led solidarity movement for gender equality, to ensure that by 2016 all Hilton's General Managers and Directors in Asia Pacific attend trainings on 'Unconscious Bias' in order to identify subconscious prejudice that may hinder the recruitment of women.

"We have pledged to double the number of female General Managers and Hotel Managers in Asia Pacific as well as to implement flexible work initiatives,' he reiterates and adds that recognising the key role that gender parity plays in school education, Hilton is dedicated to creating opportunities for children and has established a partnership with Room to Read in India and Sri Lanka, the global organisation seeking to transform the lives of children in the developing world by focusing on literacy and gender equality in education. This support includes the building of 30 libraries and 4 schools, publication of six original and local language children's books.

Hospitality industry as a means of encouraging global harmony

In a world ridden by conflicts, Costley points out the many vicissitudes of the tourism and hospitality field to contribute to world peace and tolerance.

"We believe that tourism helps in bridging cultures. Cuisine does the same thing. When you taste the food of another culture, you subtly assist yourself in loosening rigid views or pre-conceived notions about people and when you enhance the hospitality and tourism industry in a country you help in spreading the influence of tolerance to different ways of life and beliefs and thereby reverse narrow mindsets. In this context we are paving the way to look at the potential of food being a harbinger for global unity. As an American global chain we have facilitated the interaction between our staff across country borders, through initiatives such as food competitions that bring young people together. The positive energy in these interactions is unbelievable. Our young chefs from Malaysia, Maldives and Indonesia would try and develop Western food and they would experiment with new recipes using ingredients they had never used, from countries they had never been to. There are youth who have won international cuisine competitions doing this," he says.

Following are excerpts of the interview:

Q: What are the changes that are needed in Sri Lanka with regard to boosting the hotel and tourism industry?

A: Sri Lanka has seen improvement in the industry over the years. However, there is much that needs to be attempted in terms of aligning the industry with overall national development strategies. This is mandatory for tourism to be sustainable. There has to be a strong role by the private sector and an equally strong role by the government in terms of developing and providing strategic infrastructure development. Sri Lanka needs to focus on international hub cities. Tourists need to access their hotel soonest. If you have flown fifteen hours, then you do not want to go traveling again for another seven hours. A strategic approach to tourism has to be conceptualised where it gets linked with the macro as well as micro economic framework. Trade at community, district and national level has to be integrated as the tourism and hotel industry develops alongside infrastructure development.

Q: How would you sum up the current low leadership roles women play in tourism and hospitality in Asia Pacific?

A: The issue of getting women absorbed to higher positions in Asia Pacific is a challenge we are working towards, approaching it in many ways. We recently did an in-depth survey where we got female employees to answer specific questions to find out what is preventing them from applying for higher management positions. The answers reveal a plethora of attitudinal issues that bordered on social acculturation. There was one answer that said 'I did not think I could be a manager.' Some answers out-rightly said 'my husband does not approve,' or that 'my family does not think it fit.'

In Sri Lanka the rate of female representation in management positions of Hilton is around 10% and the overall female staff ratio is around 30%. There is a noticeable disparity between male and female employment ratios, because although the attitudes to the industry is changing in Sri Lanka, the reluctance to allow daughters and wives to work in tourism still persists. What the industry as a whole should do to rectify this situation is give the assurance to women and their families that the hospitality sector is a safe and secure one for both genders. Over the years we at Hilton have taken initiatives such as speaking with families of those who have newly joined us and explained how the industry could be a safe as well as rewarding career path for women.

Q: Could you outline the history and structure of the online Hilton Worldwide University?

A: The Hilton Hotels Corporation and Hilton International reunited as one company in 2007, and thereafter when the company became Hilton Worldwide in 2009, there was a need to transform the training and learning requirements of the new team members. This was earlier carried out by the many departments performing their own training independently and we soon decided to move to one unique virtual platform: Hilton Worldwide University (HWU).

The HWU is structured as five colleges. We have the Hotel College where we enable our hotels to meet, discuss and aspire to high guest expectations and there is the Owners college which is a platform enabling the hotel owners to meet and shape up learning that will be aimed at higher standards of operation and there is the Commercial College which focuses on sales, revenue management, marketing and e-commerce. There is also the Leadership College that facilitates executive leadership development and the General Studies College which cover a variety of topics on career development especially under the soft skills category. The curricula are developed and presented through these colleges. Our team members complete around 15-20 courses each and there are over 11,600 team members across South Asia and South East Asia.
Hilton's pionter female chef tells her story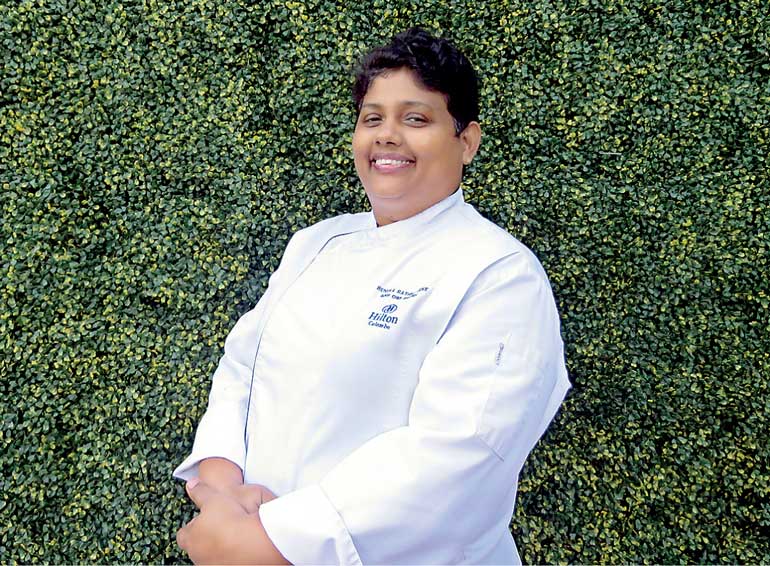 Renuka Rathnayake
In March 1987 Hilton International, which had established itself in Colombo, put out an advertisement in a local newspaper, announcing the hiring of its first batch of female trainee chefs.

Around two months later, 22-year-old Renuka Rathnayake, who had passed her Advanced Level examination in the Commerce stream, was pacing her house waiting for a response to her application. She liked cooking and wanted to be a chef.

Deciding to take matters into her own hand one idle morning she looked up the advertisement once again and rang up the number given in it. She was taken aback at the greeting 'This is the Colombo Hilton, who do you want to speak to..?' Not having the faintest idea who she should speak to, Renuka blurted out 'I need to speak to the General Manager.'

A second later another voice, this time in a foreign accent said 'How may I help you?' The wannabe chef quickly repeated 'I want to speak with the General Manager,' and was greeted with the answer, 'Yes, this is the General Manager, how may I help you?' And pat came the reply from one of Hilton's first future award-winning female chefs: 'Can you tell me why I was not recruited to the post of trainee chef? I applied two months ago.'

The career chapter of her life thus begun was propelled onto reality when she was asked by Hans Hauri, the Swiss General Manager at the time, to turn up the afternoon of that same day for an interview. Once it was explained that she lived seven hours away from Colombo, the interview was re-scheduled for the following day.

At home all hell was to break loose. Her mother was visualising the intricate explanations she would have to provide the neighbours to lighten the unpardonable societal blemish at the time that her daughter was working at a hotel.

When it hit her that her daughter was probably destined to a future of spinsterhood sacrificed at the altar of a hotel career, she bolted the doors and took away the key. But by a mixture of spunk and courage Renuka Rathnayake arrived in Colombo by next day noon to face her interview and not very long after, found herself employed as a trainee chef. Two months after recruitment she won the Best Employee Prize awarded by the hotel to its staff.

To date she has served Hilton for 29 years and currently holds the management level position of sous-chef, the third in command rank after the pastry chef, and the first female to hold this position in a five-star hotel in Sri Lanka.

"The gender stereotyping in the 1980s, especially in districts out of Colombo, was such that that families objected to females taking up work at hotels thinking it an unfit atmosphere for a woman. In comparison, for a boy to work in a hotel was not a problem for society," says Renuka, who is today happily married, with a teenage son.

Over the years she has won several international awards in the culinary field including winning the Food Asia competition in 1992 in Singapore.