Nimal Perera yesterday stepped down as Chairman of Pan Asia Banking Corporation (PABC) after completing nine years on the Board as per Central Bank directions on good corporate governance.

Deputy Chairman Eshana de Silva takes over as the Chairman of PABC.

Perera first joined the Board of Pan Asia Bank as a Director in September, 2007 and was appointed as the Deputy Chairman in March 2008 and as Chairman in April 2012.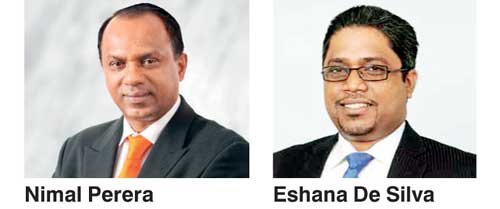 During his tenure there had been several significant achievements. Last year PABC reached the milestone of Rs. 1.04 billion after tax profit for the first time and crossed the Rs. 10 billion mark in income. The Bank recorded a growth of over 35% in total assets, surpassing the key milestone of Rs.100 billion asset base and closed the year with assets totalling Rs.107.78 billion.

The Bank also saw the entry of strategic foreign investor Bansei from Japan in 2013 with a 15% stake.

In 2015 PABC was awarded recognition as 'the Fastest Growing Commercial Bank in Sri Lanka' for the second year in a row while the Bank's product 'Budget Leasing' was recognised as 'the Most Innovative Banking Product in Sri Lanka' by Global Banking and Finance Review of United Kingdom.

Perera has over 33 years of experience in the fields of Finance, Capital Market Operations, Manufacturing, Marketing and Management Services.

He serves as a Director in several public quoted Companies. He is the Managing Director of Royal Ceramics Lanka PLC and Chairman of Lanka Ceramics PLC, Deputy Chairman of Vallibel One PLC and holds the position of Director in several quoted companies including Amaya Leisure

PLC, The Kingsbury PLC, L B Finance PLC, and Hayleys PLC.

Eshana joined the Board of Pan Asia Bank in July, 2008 and was appointed as Deputy Chairman in April, 2012. He is the Chairman of Esna Holdings Ltd., Shermans Logistics Ltd, Shermans Transport Ltd, Hanjin Shipping Lanka Ltd and he is the Deputy Chairman of Esna Ltd and Director at Esna Power Ltd, Esna Exports Ltd., Sherman De Silva & Co. Ltd, Sherman Sons td, Mc Marine Ltd, Esna Allied Enterprises Ltd, Mountbatten Lands Ltd, Plumbago Lanka Ltd, Esna International Ltd, Esna Lubricants Ltd, Integrated Shipping Agencies Ltd., Interocean Energy Ltd., and is the Honorary Consul General for Kazakhstan.