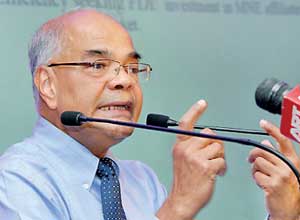 By Himal Kotelawala

Sri Lanka's immediate policy priority should be to restore policy emphasis on export-oriented industrialisation, set up institutional safeguards to avoid further backsliding from reforms and continue with implementing the incomplete reform agenda, senior economist Prof. Premachandra Athukorala said.

Delivering a lecture titled 'FDI and Manufacturing for Export: Emerging Global Patterns and Opportunities for Sri Lanka', organised by the think tank Advocta Institute, Prof. Athukorala said Sri Lanka failed to capture the full benefits of trade and investment liberalisation due to the protracted war that undermined the investment climate and macroeconomic stability and that instead of formulating a new model from scratch the Government must learn from the past.

"We have achieved a lot under a lot of constraints - particularly political instability and policy uncertainty. Now that peace is here, the Government has to try and learn from our past instead of thinking about a new model. I think we have a model that has been tested very well. It can generate more benefits to the country if the Government has a very focused plan to continue with this strategy," he said.

Trade and investment policy reforms initiated in the late 1970s, said Prof. Athukorala, set the stage for globally integrating the Sri Lankan manufacturing sector with Foreign Direct Investments (FDIs) playing a pivotal role.

The Sri Lankan experience highlights the complementary role of investment liberalisation for exploiting the potential gains from trade liberalisation, said Prof. Athukorala, adding that trade liberalisation increased the potential returns to investment by capitalising on a country's comparative advantage, while liberalisation of foreign investments permitted international firms to take advantage of such profit opportunities.

Responding to a question on Free Trade Agreements (FTAs) at the Q&A session that followed the lecture, moderated by Chief Economist at the Ceylon Chamber of Commerce Anushka Wijesinha, Prof. Athukorala said that though they are called FTAs they are actually not free trade.

"The term FTA is a misnomer," he said, adding that FTAs have very low utilisation.

"I consider it a political gimmick. The admin compliance costs are too much," he said.

He suggested that what Sri Lanka needed to focus on instead was the rationalisation of the trade tariff system in order to liberalise trade.

"What is needed is to rationalise the tariff system. People think that higher tariff means more revenue for the Government, which is not the case. There is evidence to suggest that a more uniform, lower tariff system can generate more government revenue simply because the system becomes much more transparent," said Prof. Athukorala.

Cascading tariffs can be a breeding ground for corruption, warned Prof. Athukorala, adding that if the tariff regime was low and uniform, it competed against smuggling and could improve Government revenue.

Policy inconsistency can also be a killer, said Prof. Athukorala, pointing out that last year saw the lowest FDI levels in history.

The Board of Investment (BOI) was relegated under the last regime and investments were done on a political basis, he charged.

Prof. Athukorala suggested that Sri Lanka market itself internationally to potential FDIs by sharing its success stories and using successful entrepreneurs in proactive investment promotion campaigns.