From left: Shakti Sinha, Amb. Tariq Karim, Manoj Ladwa, Dr. Uttam Sinha, Asanga Abeyagoonasekera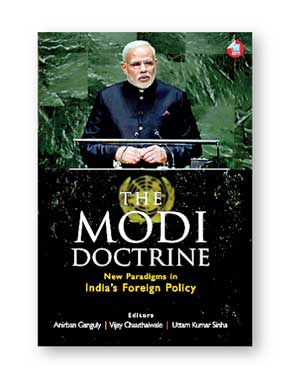 Institute of National Security Studies Sri Lanka (INSSSL) Director General and visiting lecturer Asanga Abeyagoonasekera has contributed a chapter to a new book entitled 'The Modi Doctrine: New Paradigms in India's Foreign Policy'. External Affairs Minister Sushma Swaraj on 13 August released the book which was edited by Anirban Ganguly, Director of the Syama Prasad Mookerjee Research Foundation, Vijay Chauthaiwale, in charge of department of foreign affairs in the BJP, and Uttam Kumar Sinha, a Fellow at the Institute for Defence Studies and Analyses.

"Among the issues that dominate global concerns today is the threat of terrorism," Sushma Swaraj said while releasing the book, in a packed gathering at the India International Centre. The External Affairs Minister also highlighted the government's 'Neighbourhood First' diplomatic initiative. "The very first diplomatic move made by the government was on its inauguration day, by inviting leaders of neighbouring nations to join us on that occasion," she said. "The underlying thought has since expanded into a 'Neighbourhood First' policy that stresses cooperation, connectivity and greater people to people contacts."

The visiting British Secretary of State for International Development Priti Patel, who is of Indian origin, was also present for the release. There were 20 distinguished scholars and experts on foreign policy, geopolitics from around the world who contributed.

From Sri Lanka Abeyagoonasekera's paper on 'India and Sri Lanka: Right Leadership at the Right time' was selected. During the launch of the book a panel discussion was held with the participation of Shakti Sinha, Amb. Tariq Karim, Dr. Uttam Sinha, Asanga Abeyagoonasekera and moderated by Manoj Ladwa.

Abeyagoonasekera highlighted, "Common individuals like PM Modi and President Sirisena have managed to rise to the highest position in Government due to strong democratic institutions in both nations. President Sirisena is the first President to reduce his executive power and his term limit which was not done by any other President in Sri Lankan history; our President has successfully rebalanced the foreign policy for the short time at office, a great achievement."

The book is published by Wisdom Tree and will be available in bookstores around the world.