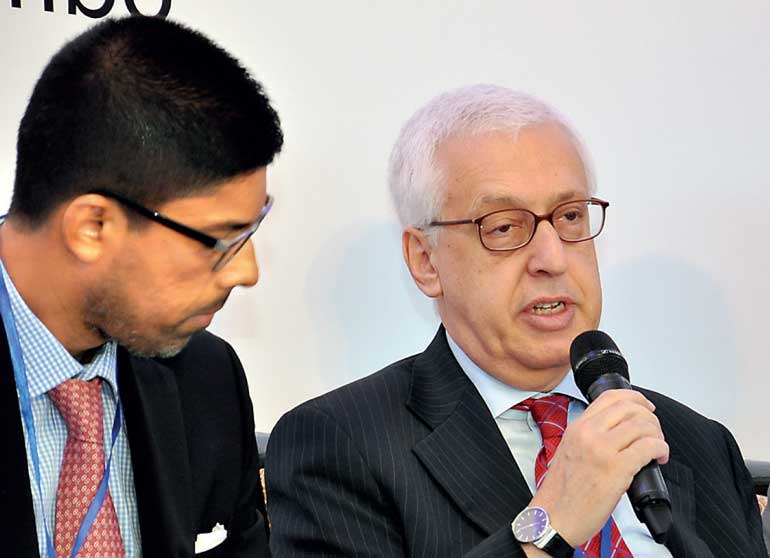 World Tourism Organization (UNWTO) Executive Director for Operational Programmes and Institutional Relations Márcio Favilla speaks at the Tourism panel of the Sri Lanka Human Capital Summit last week. Session Chair Malik Fernando is also present - Pix by Lasantha Kumara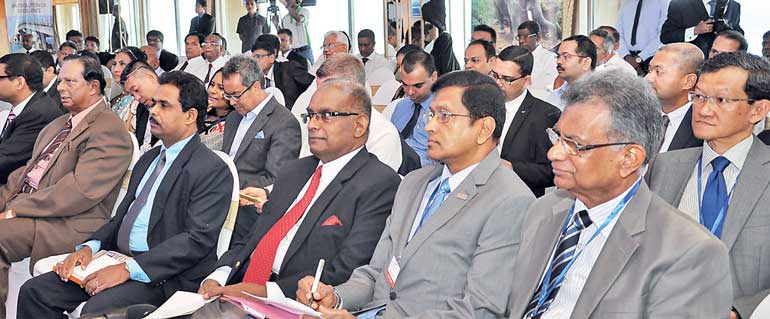 By Charumini de Silva

World Tourism Organization (UNWTO) Executive Director for Operational Programmes and Institutional Relations Márcio Favilla outlining recommended actions for Sri Lanka said the National Tourism Development Plan needs to clearly address sustainability issues and be aligned with the National Development Agenda in its objectives.

He stressed the importance of generating intelligent and well-informed policies especially which lead to sound investments, job creation, socio-economic development, respect and promotion of local culture and products.

"Visa policy is a very important factor in any tourism development strategy because it has to address and support the National Tourism Plan. However, this is very frequently challenged because the policy implementation is not in the hands of the Tourism Minister, and therefore working together with other ministers to make the visa policy well-aligned with the tourism priority is crucial to attract foreign direct investments (FDIs) as well as for HR development demands," he explained.

In addition he also emphasised the importance of a coherent tourism and air transport policy as it is mutually dependent. Commenting on the key issues for human capital development in tourism, Favilla emphasised that it has to be fully integrated in terms of the tourism development strategies of the country.

Noting that there are a lot of negative perceptions about a career path in tourism industry, he opined that the mismatch of demand and supply of human capital in the industry should be addressed by focused education, vocational and skill training coupled with the ICT revolutions to create a high skilled workforce.

Favilla in particular called on the private sector to provide good working conditions and competitive salaries to address the career path misperceptions as well as to attract new talent into the industry.

The quality of service, innovation and creative thinking were outlined as strong competitiveness factors to address the key challenges for the future of human capital in tourism.

Although Sri Lanka is highlighted Sri Lanka as the 'bright spot' for South Asia with strong educational enrolment and high completion rates of basic education, it was pointed out that the country still requires to better transmit the potential of its young population to the workforce.

The tourism industry overall is more diversified than many other sectors in terms of employment opportunities, income generators through a complex supply chain of goods and services, thus making it a labour intensive sector that requires professionals with different skill levels.

The sector is also considered as one of the more resilient sectors, with a unique capacity of recovery, generally with low start-up costs providing ideal opportunities for entrepreneurial young talents.

Outlining specific recommended actions for human capital development in Sri Lanka he said creating partnerships, improving stakeholder engagement in public and private sector, trade associations, education and training providers and other stakeholders in the civil society to raise awareness for a better understanding of tourism sector career paths was significant.

While acknowledging 2015 was a significant year for the tourism industry as it was included in the United Nation's 2030 Agenda for Sustainable Development Goals, he said 2017 has been named as the International Year of Sustainable Tourism for Development.

"It is a great opportunity for all stakeholders to develop actions efforts, initiatives to raise awareness of the importance of our sector. In the four lines of UNWTO actions advocacy and awareness raising, knowledge creation and dissemination, policy making as well as capacity building and education has been given priority," he added.

Sri Lanka being a founding member of the UNWTO, he appreciated the deep association over the years and commended the efforts and initiatives taken by the Government of Sri Lanka adding that it was a good and progressive decision to identify tourism as a thrust sector for the future growth of Sri Lanka.