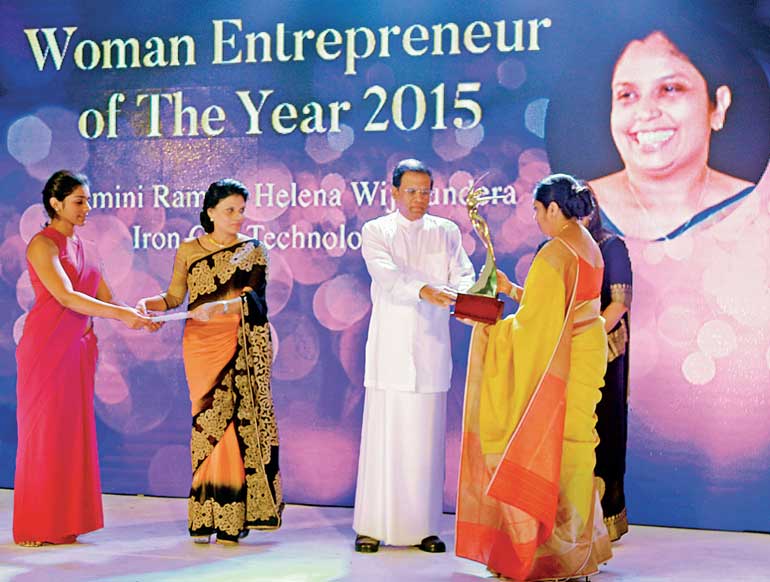 IronOne co-founder and CEO Lakmini Wijesundera receives the Woman Entrepreneur of the Year award from President Maithripala Sirisena
Mobile IT solutions trailblazer Lakmini Wijesundera has been honoured at the highest level for her contribution to the country's economy with the three top awards at the annual Women Entrepreneur Awards presented by the Women's Chamber of Industry & Commerce (WCIC).

The co-founder and CEO of IronOne Technologies, the Sri Lankan mobile software solutions company which has offices in USA, Malaysia, Singapore and Sri Lanka and partner offices in 15 countries, Wijesundera was named Sri Lanka's Woman Entrepreneur of the Year, Woman Exporter of the Year and Gold Award Winner in the 'Large' category at an awards gala at which President Maithripala Sirisena presided as Chief Guest.

The awards recognise the entrepreneurial flair of women entrepreneurs and are based on an assessment of their business development strategies for enhancing competitiveness of their businesses and the innovative approaches that they adopt to solve business problems, both operational and strategic.

They also acknowledge the lasting contribution made by women entrepreneurs towards the achievement of Sustainable Development Goal (SDG) No. 5 relating to gender equality and empowering women and girls by ensuring women's full and effective participation and equal opportunities for leadership at all levels of decision making in political, economic and public life.

"I am humbled by these awards because it has been my privilege to lead an amazing team at IronOne Technologies," Wijesundera said, commenting on the accolades bestowed on her. "The 10 years since we founded the company have been meteoric for the mobile-based solutions industry, with developments happening at lightning speed. IronOne has not only been able to anticipate and respond to trends with timely products, the company has developed several platforms that have become market-leaders in their categories in several countries."

Founded in 2006, IronOne focused on mobile design and development, initially working with iOS —then known as iPhone OS—and Android when it was launched. Over the past 10 years the company has worked with a diverse group of clients ranging from Fortune 500 companies to start-ups with great ideas.

Today, IronOne Technologies is considered an outstanding software design and development company which specialises in outsourced IT services. The company is also a provider of next-generation Enterprise Voice, Web and Data Integration Solutions for Global 5000 corporations as well as small and mid-sized businesses.

Wijesundera, who has more than 18 years of experience in technology management and global distribution, is responsible for the overall management and strategic growth of the company and heads its 120+ strong team.

Among IronOne's flagship products are 'ATRAD' – a Sun Micro system certified real-time internet based online stock trading system; BoardPAC – an effective paper-less way for Board Directors to access Board and Committee Papers and supplementary information directly from their iPhone or iPad devices; and InfoSense – a platform that offers easy-to-use templates that enable a company to be up and running within a week with its corporate KPI monitoring dashboards and key services.

Besides the WCIC Women Entrepreneur Awards, Wijesundera received the prestigious Gold Award for IT at the 2016 Women in Management (WIM) awards presented in June this year.