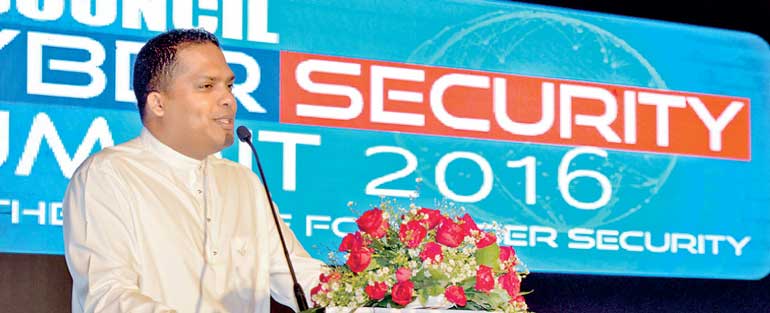 Telecommunication and Digital Infrastructure Minister Harin Fernando addressing the Cyber Security Summit 2016 – Pic by Daminda Harsha
By Uditha Jayasinghe

Forging ahead in building digital infrastructure, the Government has closed the largest-ever information system tender for a National Digital Identity system budgeted at $ 100 million to provide every citizen with a cryptographic private key, a top official said yesterday.

Telecommunication and Digital Infrastructure Minister Harin Fernando addressing the Cyber Security Summit 2016, organised by the Daily FT and CICRA Holdings, noted that the step would revolutionise transactions countrywide as it would empower every Sri Lankan to do online transactions, sign and dispatch documents digitally and reduce costs exponentially.

"The Government cloud system has been tendered and will be implemented before the end of the year. The Government network will link 960 locations at 100MBps this year. A National Payment Platform for facilitating payments for every citizen with a bank account is currently being implemented," he said.

Given Sri Lanka's strong mobile penetration of 110.4% "there are more mobile phones than toothbrushes," he quipped.

Statedigital arm, the Information Communication Technology Agency (ICTA) is already working closely with the Central Bank and other institutions to set up a digital platform for online payments to be enabled for a range of key institutions including Customs, Inland Revenue and Excise Departments.

In addition, as many as 65 other projects are also being rolled out by ICTA, the Minister said.

"It is important to ensure that we protect our digital infrastructure against cyber security attacks. It is important for our citizens to feel safe. ICTA is also spending over Rs.1 billion on the National Security Operations Centre for cyber security and the Government will also ensure legal frameworks are in place," he assured.

Minister Fernando recalled that Sri Lanka was the first South Asian country to ratify the Budapest Cybercrime Convention and the only Asian sitting on the Budapest cybercrime governing council.

He said ongoing and planned measures can make Sri Lanka the digital hub of Asia and Sri Lanka could become a source of cyber security experts for South Asia.

"Today's event clearly shows the industry contribution to digital Sri Lanka and I thank Daily FT and CICRA Holdings for organising this all important Cyber Security Summit for the fourth consecutive year. We appreciate your contribution to the Sri Lankan economy by raising the awareness of cyber security preparedness amongst the top corporate and Government personnel."

Sri Lanka has remained at the forefront of telecommunications and digital infrastructure, pointed out Minister Fernando, expressing pride at the ICT sector becoming the fifth largest revenue earner for the country and becoming the first country in the region to liberalise its telecom sector. Sri Lanka currently has five mobile operators and multiple international gateways.

Featuring international, regional and local experts, the fourth annual Daily FT-CICRA Cyber Security Summit was a sell out with over 350 participants.

The EC-Council Cyber Security Summit 2016 was co-organised by CICRA Holdings – Sri Lanka's pioneering cyber security training and consultancy provider – and Daily FT. Supported by the ICT Agency, the strategic partners of the 2016 Cyber Security Summit were Microsoft and CISCO, the electronic payment gateway was LankaPay, the insurance partner was Sri Lanka Insurance, the creative partner was BBDO Lanka, the printing partner was OfficeMax, the hospitality partner was Cinnamon Lakeside and the electronic media partner was MTV and MBC Radio. Deakin University and EPIC Lanka also extended their support to the Summit.