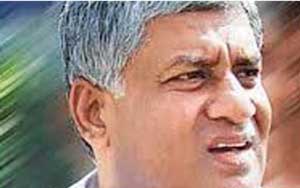 By S.S. Selvanayagam

Counsel for Parliamentarian cum businessman Tiran Alles yesterday (9) asserted that arrest could not be caused merely on suspicion.

The Fundamental Rights petition filed by Alles seeking to prevent his arrest came up before the Bench comprising Justices Eva Wanasundera, Anil Goonereratne and Prasanna Jayawardane for argument.

President's Counsel Romesh de Silva PC with Sugath Caldera appearing for the Petitioner Tiran Alles submitted that qualifying arrest is for absconding, interference with witnesses or attempting to destroy evidence.

He submitted that Petitioner could not be arrested prima facie as there is no reason or ground for it and Supreme Court when granting Interim Relief has noted there is no justifiable reason or ground for his arrest.

He submitted that in any event the police is acting mala fide and for extraneous reasons.

The Court fixed the argument to be resumed on 28 September.

Petitioner Alles in his petition seeks the Court to issue an Interim Order preventing his arrest as he was an owner of a newspaper company and a close associate of the former President.

He cited the IGP, Director of the Special Investigation Unit SP Mewan Silva, OIC of the SIU M.D.D.P. Gunathilake, Police Media Spokesman ASP Ruwan Gunasekera and the Attorney General as Respondents.

ADG Yasantha Kodagoda appeared for the State.

Petitioner states that Minister Patali Champika Ranawaka leveled various allegations against him stating that he was responsible for defection former JHU stalwart Udaya Gammanpila causing a split in the JHU.

He states he was the non-executive Chairman of RADA since 2002and the institution was placed under the Nation Building Ministry in 2007.

He states he was not involved in any of the projects carried out by the institution until it was taken over by the Nation Building Ministry while adding that the Auditor General or the COPE never raised questions over RADA.

He complains the Police Special Investigations Unit had taken action against him due to political influence of certain Minister and the Police went on to impound his passport without even recording a statement from him.

He alleges the Government is taking revenge from its political opponents and as a result he too faces the risk of being arrested.