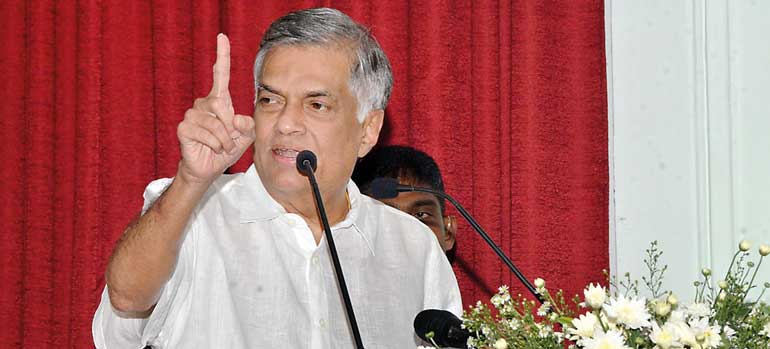 Prime Minister Ranil Wickremesinghe gestures during his address at the meeting in Kandy on Saturday
Prime Minister Ranil Wickremesinghe, in a speech in Kandy on Saturday, launched a scathing attack on media organisations he claimed were trying to destabilise the country, saying they needed to be "taught a lesson".

Speaking at a United National Party membership drive in the hill capital, an irate Prime Minister charged that for one month the Daily FT the country's first and only national business daily newspaper, had published articles in an attempt to sabotage the economy.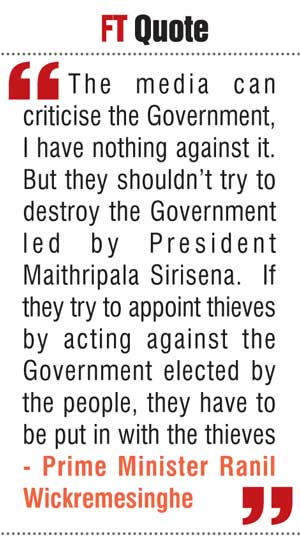 "The Financial Times tried to sabotage the country's economy. For one month they published various articles. But what happened in the end? We sought a sovereign bond of $ 1.5 billion. We got offered $ 6.7 billion. But we took only 1.5 billion. We did not want more than that. But we will have to teach such newspapers a lesson," Prime Minister Wickremesinghe said. The Premier also issued a strong criticism of Daily FT's sister publication Daily Mirror, saying the newspaper, in an article published the previous week, had called for the removal of Foreign Minister Mangala Samaraweera. "I know the editor of the Daily Mirror. He once wrote saying I should be removed from the party leadership. We will have to see what to do if he does not leave his post," the Prime Minister said.



Wickremesinghe claimed that the editor of the Daily Mirror had always been serving Mahinda Rajapaksa's interests.

"That newspaper carried articles against Muslim people. It carried articles against Tamil people. If they are going to call for the removal of our people we will have to teach them a lesson," he charged.

Wickremesinghe said journalists who had defended the previous regime which had robbed the country would have to be dealt with.

"We would like to tell these journalists not to play the fool with this Government. We will run for five years. I will be criticised for saying this but that's okay. The media can criticise but if they try to appoint thieves by acting against the Government elected by the people, they have to be put in with the thieves," he said.

The Prime Minister said he had always fought for media freedom. "I can even reveal the names of those who I will be summoning in the near future. The media can criticise the Government, I have nothing against it. But they shouldn't try to destroy the Government led by President Maithripala Sirisena. We know they were dining with the Rajapaksas. But now I am the one who is at Temple Trees and I won't give away free food or send invitations," he said.