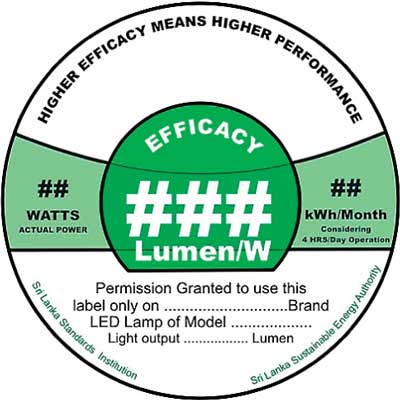 Mandatory step to ensure appliances meet standards
Minimum energy performance or MEPS label as a short term strategy to encourage conscientious consumers
Resources for speedy implementation difficult
By Charumini de Silva
Conscientious consumers will soon find it easier to pick energy saving appliances under a fresh Government policy to introduce mandatory energy labelling for domestic appliances to be rolled out within the next two weeks.
The relevant Government institution has already received approval to implement minimum energy performance standards (MEPS) for LED lights and within the next couple of weeks the products will come into the market with MEPS labelling.
"The customers will be able to make purchases purely by choosing the products with the green MEPS logo," Sri Lanka Sustainable Energy Authority (SEA) Deputy Director General (Strategy) Harsha Wickramasinghe told theDaily FT.
The main hindrances to growth of efficient electric appliances market in Sri Lanka include not having right standards enforced and the cost factor. Most of the products in the market at present do not deliver the quality performance they boast of, thereby misleading the consumers.
Wickramasinghe explained introducing MEPS was important as it could be used as a stepping stone to introduce comprehensive energy labelling.
Noting that there is a huge variety of LED products in the market he stated it was important to introduce MEPS to create a benchmark.
The authority expects to introduce MEPS for five common household appliances such as refrigerators, LED lights, ceiling fans, television and washing machines to limit low energy efficient appliances in the market.
Wickramasinghe pointed out that energy labelling enables consumer to identify consumption levels and efficiency rating, while it also helps the economy save a significant amount of electricity essentially contributing to the revenue of the Government.
However, he noted that evaluation process of these appliances was a huge challenge as there is an enormous product variety now, compared to a period a decade ago.
Pointing that is very costly and expensive to test these appliances he said: "If we introduce the labelling as a mandatory scheme, then the product variety would be reduce as well, because it even costs the equipment vendors a tangible amount to get these things tested. So, they will reduce their product variety when the scheme is available on a mandatory basis, leaving the best of their products for the consumers," he added.
He also added that it was very difficult to garner the human and technical resources and to convince the decision makers and get an appliance labelling scheme passed through the system.