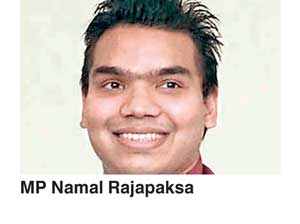 By P D DE SILVA

"Prime Minister Ranil Wickremesinghe who was very critical of the Colombo Port City project before assuming office, is contemplating giving it recognition as a separate state" said Member of Parliament for the Hambantota District, Namal Rajapaksa. The MP made this remark when he visited the Hakmana Poson zone last Saturday (23rd) in reply to a question asked by a journalist.

"The present government does not have any development plans of their own and are marketing to the world the development planned and achieved by the Mahinda Rajapaksa administration. The government is planning to sell the Hambantota Harbour and Mattala airport. They are going ahead with the Chinese funded Colombo Port City project and are even contemplating giving it recognition as a separate state!" he said.

On being asked about the remarks the PM made with respect to the media the MP replied "That is democracy. Now you can see how good governance works. The media is threatened and so is the opposition. We have been threatened with imprisonment if we go ahead with the pada yathra! I have been remanded once and it wouldn't be a new experience. We will be going ahead with the pada yathra irrespective of whatever obstacles the government throws across our path" The Hakmana Poson zone was held under the patronage of the Lakshman Yapa Foundation for three years from its inception but this year, the fourth year that the Poson Zone is being held, the Youth Organisation of Hakmana have parted ways with the Lakshman Yapa Foundation. A representative of the foundation said "It is the people of Hakmana that forced us to part ways with the Lakshman Yapa Foundation. The people would have boycotted the event if we continued with them. Minster Lakshman Yapa has lost his popularity in Hakmana and it is certain that the majority of the electors in Hakmana won't vote for him or his son Pasanda Yapa again"
Only Joint Opposition is there to protect people now - Dinesh
​The Joint Opposition has become the "guardians of the people", MP Dinesh Gunawardena says.

He made this observation while he was speaking at an event held in Maharagama. He also added that the efforts of the Joint Opposition ended up making so many "good" changes during recent times.

Meanwhile, MP Dullas Alahapperuma invited the general public to take part in the Joint Opposition's protest march from Kandy to Colombo from July 28. "This protest march is against the Government, not against the Sri Lanka Freedom Party (SLFP)," he added.
Investigate the Cabinet first - Wimal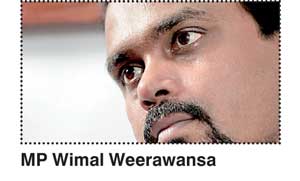 ​The culprits involved in the cases of journalists Lasantha Wickrematunge and Prageeth Eknaligoda were in the Cabinet, National Freedom Front leader MP Wimal Weerawansa claimed.

He made these comments while speaking at a meeting in Kaduwela.

He pointed out that the police should first investigate several Cabinet ministers in order to reveal the true facts of both cases.

"If police send a sniffer dog there, it will detect the people behind the disappearance of Eknaligoda and the murder of Wickrematunge," he added.