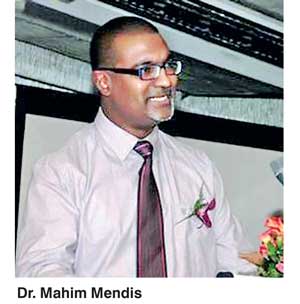 In an age of information overload, you have to do something special to make your message stand out. If you want to be heard, it is not enough to just send more emails, or improve your social media – you have to engage and inspire at human level. There's no more effective way to influence people, than standing up and speaking from the heart.

Stemming from the success of the public speaking interactive seminars organised over the last few years by the Rainbow Institute of Communication and English, a centre of excellence in communication and public speaking, the annual interactive seminar 2016 is themed 'Public Speaking Accelerator'. It is scheduled for Thursday, 4 August, at the Galadari Hotel.

The dynamic Rainbow Institute trainers, led by eminent university academic and powerful public speaker Dr. Mahim Mendis, will equip participants to develop confidence and polish to inspire their audiences during this high impact seminar.

Activity-based, fun-filled learning

Through activity-based training, participants will develop their analytical skills, learn to brainstorm, get over their nervousness and master techniques of making powerful presentations.

The forthcoming seminar is packed with exciting new learning and activities. Hence, this is also an excellent opportunity for those who have attended the Rainbow Institute intensive trainings and full day training seminars on Public Speaking in the past, to brush up their skills and enjoy a full day of activity and fun with public speaking.

The lead trainer, Dr. Mahim Mendis, is an eminent academic. He is a British Chevening Scholar, with two Masters Degrees from the University of Lancaster and University of Leicester, UK, a Ph.D in Media Sociology from the National University of Singapore and post- doctoral training from the Northern Illionois University and the University of Massachusetts in Amherst, USA.

Dr. Mendis is renowned as a defender of professional rights and courageous communicator, having been the Spokesperson of the Federation of University Teachers Associations (FUTA). He is a specialist in organisational communication and is a highly sought after trainer for public, private and international organisations in Sri Lanka and overseas. He is a product of S. Thomas' College, Mount Lavinia.

The number of participants for the public speaking seminar is limited to provide personalised attention and time for individual practice.

Corporate packages

The Rainbow Institute also provides special corporate packages to organisations. Some of the Rainbow Institute's key corporate clients are MAS Holdings, Fonterra Brands, John Keells Foundation, Central Finance, Bank of Ceylon, Ceylon Tobacco, Hilton Hotel, Embassy of the United States of America, Canadian High Commission and Asian International School.

Contact Rainbow Institute on 0114380400 or 0777 352118 to book your place.

Insights to Rainbow Institute Public Speaking Seminar, 2015, Galadari Hotel:

"This was a very good session. I gained a lot out of it" – Upali Jayasekera, Managing Director, Mega Heaters Ltd.

"It was a very interactive and mind blowing experience. The lessons we learned made a permanent mark in our minds" – Senuri Paranagama, Student.

"A very useful and successful workshop" – Rupa Dheerasinghe, Assistant Governor, Central Bank.

"Valuable thoughts and insights to unleash the hidden speaker within us" – Ashanthi Fernando, Procurement Agent, Embassy of the United States of America.

"Great workshop. People were given adequate opportunities to speak up" – Suramya Wijemana, Training Manager, Central Finance Co Plc.

"This is the best workshop I have ever participated in" – A. Sandaruwan, Finance Officer, LOLC.