Former Delmege Forsyth Chairman Ricky Mendis is set to seed fund young entrepreneurs identified through 'idea2fund'. 'idea2fund', the venture challenge platform powered by MTI Corporate Finance has encouraged many young entrepreneurs to come forward with their ideas.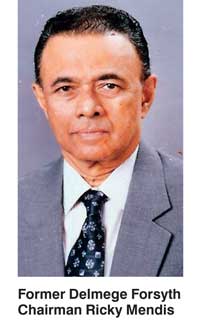 Mendis, a philanthropist who has supported many education and innovation initiatives, has agreed to seed fund young entrepreneurs in his personal capacity in order to encourage young entrepreneurial talent. The shortlisted entrepreneurs are to present their 'idea2fund' to Mendis who will thereafter seed fund the ventures that he sees promise for the future.

"The need for forum's like 'idea2fund' to support the startup ecosystem and encourage the entrepreneurial spirit of the youth of Sri Lanka is paramount. Personally, I'm pleased to help kick start some of these ventures and give young entrepreneurs the impetus they need to realise their true potential," said Mendis.

"I would like to thank Mendis for supporting this initiative from a personal capacity and I believe his seed funding plus words of advice would help these young entrepreneurs to ultimately start living their dreams," said Hilmy Cader, CEO of MTI Consulting.

MTI Corporate Finance is the corporate finance arm of MTI Consulting, a boutique strategy consultancy with a network of associates across Asia, Africa and Middle East. MTI Corporate Finance provides a comprehensive range of services, including due diligence, feasibility studies, funding new businesses or capitalisation of existing ones – from IPOs to private placement facilitation, M&A facilitation, and advisory on governance, compliances and risk management.