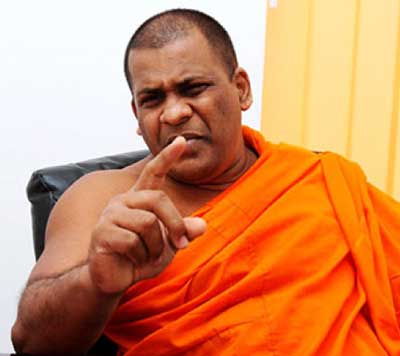 By S.S. Selvanayagam

Pursuant to the motion by the Attorney General, the Supreme Court yesterday (12) re-fixed for support on 19 September for granting leave to proceed with the fundamental rights petition filed by Ven. Galagoda Aththe Gnanasara Thero.

The Bench comprised Chief Justice K. Sripavan and Justice Upaly Abeyrathne.

The Petitioner is seeking a declaration from the Supreme Court that the order made by the Magistrate of Homagama to remand him is unlawful and in violation of his fundamental rights of equality and freedom from arbitrary detention.

He also seeking the Court to declare that the Respondent police officers have acted in violation of Article 9 of the Constitution that reads that the Republic of Sri Lanka shall give to Buddhism the foremost place and accordingly it shall be the duty of the State to protect and foster the Buddha Sasana.

He is also asking the Court to declare that the Respondents thereby acted also in violation of his fundamental rights to the freedom of thought and religion and the freedom of assembly to manifest his religion and belief.

Petitioner cited IP Wijeratne – the OIC Miscellaneous Complaints, Homagama Police Station, HQI Upul Liayanagama, IGP N.K. Illangakoon and the Attorney General as Respondents.

Manohara de Silva PC with Arindra Wijesundera instructed by Anusha N.Perusinghe appeared for the Petitioner. Additional Solicitor General Ayesha Jinasena appeared for the Attorney General.

Petitioner attached to Wanawasi Parshavaya Siam Maha Nikaya is the Viharathipathi of Sri Sadhdharmarajitha Viharaya, Rajagiriya states that on complaint made by Sandya Eknaligoda, he was produced before the Homagama Magistrate's Court on 26 January and he was remanded by the Magistrate.

He states thereafter he was released on Bail and contends that when he was produced before the Magistrate, there was no justifiable reason for the Magistrate to make order of remand.

He states that consequent to his arrest, 11 Bhikkus and five lay Buddhists were arrested by the Homagama Police purely for the reason they were Buddhist activists and not for committing any offence under the law.

He alleges when they were arrested, they were brought to Court in a manner that would bring disrespect to the Buddha Sasana compelling them to cover their heads with their robe.