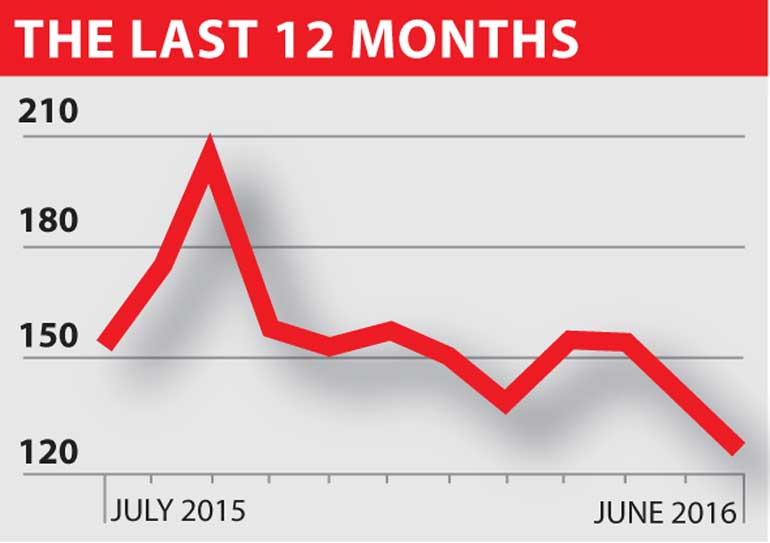 "The barometer of biz confidence plummets, as recent tax hikes and policy uncertainty have members of the corporate community scratching their heads over what the future holds," says leading business magazine LMD, in its July edition.

It adds that the June LMD-Nielsen Business Confidence Index (BCI) suffered another sharp fall, continuing its southbound trajectory – the unique barometer of corporate sentiment dropped sharply to 126, which is well below its 12-month and all-time averages, of 155 and 130 respectively.

"One has to backtrack to February 2014, to match the latest BCI count. In that month, the index stood at a lowly 124, ahead of the damning UNHRC resolution on Sri Lanka and Provincial Council elections," LMD notes.

The magazine quotes Nielsen's Managing Director Shaheen Cader, who says that the fall comes against a backdrop of "concerns about the economy and future business performance, as businesses react to both the VAT increase and concerns about inflation."

Meanwhile, the exclusive monthly survey – conducted for LMD, by Nielsen – reveals that businesspeople have mixed sentiments on the outlook for the economy.

While a third of respondents believe that conditions are likely to improve over the next 12 months, 36% say that it will worsen during this period. Another 30% of those surveyed expect the status quo to be maintained.

As for the outlook, LMD states: "The index has come under increased pressure because of accelerating inflation and the Sri Lankan Rupee's vulnerability, coupled with the stringent conditions set out in the IMF's bailout arrangement ... It follows that business sentiment could very well head south in the near term.'

The July edition of the magazine will be released to book stores and supermarkets on Friday, 8 July (for the full BCI report, go to www.LMD.lk).