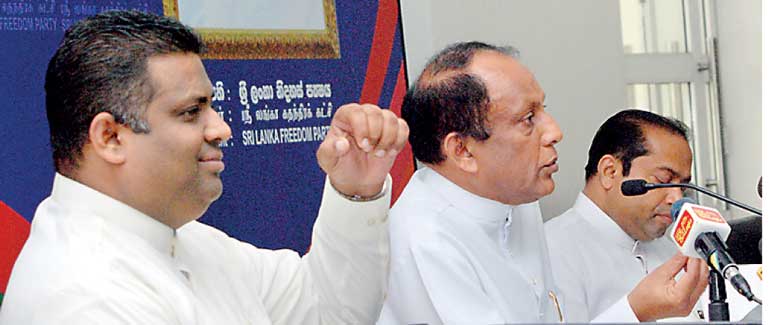 By Chamodi Gunawardana

Policy makers should formulate a fresh plan to market the Mattala airport to promote charter flight operations with international destinations,the Sri Lanka Freedom Party (SLFP) said yesterday.

Speaking at the SLFP weekly media briefing, Tourism Deputy Minister Arundika Fernando said the SLFP urged United National Party (UNP) members of the Government to work with them to define a marketing strategy to promote the Mattala airport. Fernando also insisted that the SLFP did not agree with the decision to use Mattala to store paddy and hinted that it was an exclusively UNP decision.

"SLFPers had disagreements over selecting an ideal place to construct the airport, but now it is pointless to waste time on arguments. We have a need for a second international airport and now time is to re-promote the airport to get the best use from it," he noted.

Outlining plans to promote Mattala, Fernando stated its operations could be handed over to another private company or foreign airline if the Government is unable to bare the operational cost.

"We can conduct discussions and enter into agreements with European or Asian countries that are able to handle Mattala," he said.

Commenting on expanding charter flight operations between Europe and Sri Lanka, Fernando said UK-based travel group Thomas Cook had agreed to sign an agreement with Sri Lanka.

"It is a difficult task to establish charter flights between overseas and Sri Lanka, but Thomas Cook promised to consider the possibility of doing so," he said.

The Deputy Minister also criticised Government moves to hand over all ground handling operations of the Bandaranaike International Airport (BIA) to Sri Lanka Airport and Aviation Services Limited. Fernando said it was unfair to remove the most profitable unit of SriLankan Airlines when the rest of the company is burdened with losses.
Govt. to seek separate agreements with EU countries on exports
Acting Finance Minister Lakshman Yapa Abeywardena yesterday said the Government should enter into a range of new agreements with key trade partners of the European Union (EU) to offset more exists from the bloc following Brexit.

Abeywardena noted that such agreements would be especiallyimportant for the stability of garment exports to the EU. The Government has already said it would work on a Free Trade Agreement (FTA) with Britain.

Several other countries including France have shown signs of reconsidering their membership with the EU. Sri Lanka could benefit by being proactive on FTAs as negotiating trade agreements usually take years, the Minister said.