"The Prime Minister is after me," claims Parliamentarian Mahindananda Aluthgamage. The former Sports Minister says Premier Wickremesinghe is intimidating him on a personal level following his involvement in matters with regard to the Central Bank Governor and the Minister of Finance. "He (Wickremesinghe) is enraged that I was very active in both these cases. He is on a personal mission to shut my mouth," Aluthgamage charged, in an interview with the Daily FT. Following are excerpts: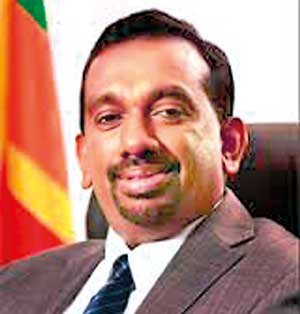 Q: What is the latest with regard to the brawl between you and Ranjan Ramanayake?

A: Well… the latest is that I have sent letters of demand to Deputy Minister Ranjan Ramanayake and UNP Parliamentarian Ananda Aluthgamage demanding Rs. 500 million each. I am going to file a case against Ramanayake.


Q: UNP Parliamentarian Ananda Aluthgamage is a relative of yours. Why is he making these allegations against you?

A: Yes, Ananda Aluthgamage is a distant relative of mine. But he is not an 'Aluthgamage'. His real name is Dayananda. When my father became the MP for Nawalapitiya, Ananda changed his name to Aluthgamage so he too can enjoy the privileges.

Anybody can make allegations. But there has to be evidence to prove their allegations are genuine. These accusations are purely politically motivated. Ranjan and Ananda act according to the instructions of Prime Minister Ranil Wickremesinghe. The Prime Minister is after me; he is using all possible avenues to shut my mouth. But I will not be scared and I will continue with my fight.



Q: Why do you say the Prime Minister is trying to intimidate you?

A: On the day I attended my first COPE meeting, Chairman Sunil Handunnetti was scheduled to submit a report to Parliament. But the report did not mention a word about the bond scam or the Central Bank Governor. This is the biggest fraud that happened in this country. How can the COPE not talk about it? I raised the matter during the discussion and pointed out it is pointless submitting a report to the Parliament without the Governor's issue.

Handunnetti's excuse was that the Central Bank Governor was not replying the Auditor General. Then I told Handunnetti, if Mahendran is not replying to the Auditor General, he should be brought before Parliament. When we checked with the Auditor General, he too confirmed that when they went to the Central Bank Mahendran did not give any information.

Then we took him to the COPE. Mahendran was summoned the following day. On the same morning, Anura Dissanayake and Handunnetti told me that Karu Jayasuriya and Lakshman Kiriella asked them not to summon Mahendran. Then I objected. We told them that it is not correct to do that. Finally the Central Bank Governor came and he brought a letter from the Attorney General saying they are unable to give the information. We said the Attorney General had not given a ruling like that and therefore he should give the documents. We created a lot of pressure and we told Mahendran to report within a week. Everyone knows I played a major role in this incident.

I was very active during Ravi Karunanayake's matter too. I tabled some papers and always highlighted Karunanayake's mistakes. Ranil Wickremesinghe is not happy that I put lot of pressure against his favourites. He is enraged that I was very active in both these cases. Therefore Ranil Wickremesinghe is on a personal mission to shut my mouth. Wickremesinghe is the one who is handling Ramanayake and Ananda. They are just puppets. Wickremesinghe is the one who wants these two gentlemen to hammer me.

The other day when I was talking in Parliament, Ranil Wickremesinghe told Ananda Aluthgamage to 'get up and shout'. It is in the video. Anybody can see it. It was shown on Derana TV too. It is sad to see the Prime Minister of our country behaving like this.


Q: Did you or did you not use this alleged vehicle?

A: These complaints are baseless. This vehicle was in Madiwela. Ranjan Ramanayake started various allegations that the vehicle belonged to me and I had used it for a murder and many illegal things. However, the Deputy Sports Minister said the vehicle belonged to the Ministry of Sports.

When I was at the Sports Ministry I used this vehicle. But mostly the vehicle was used by one of my coordinating secretaries. There isn't a single complaint in the Police against this vehicle. Ranjan and Ananda accuse that the number plates are fake. But that is wrong.


Q: Do you think it is correct to assault a Deputy Minister and use bad language in Parliament?

A: On that day as I came out of the lift I saw Ranjan Ramanayake and Anura Kumara Dissanayake discussing something. Then Ramanayake accused me saying various things. He said the JVP Leader had denied a statement I made. I tried to explain what actually happened but Ramanayake kept on accusing me. Then things got a little out of control. I lost my temper, I am not denying that, but I didn't hit him. It was Ramanayake who banged his own head on the wall and slapped himself several times. After a while his face was swollen and he was crying. Ramanayake must have thought it was a movie scene.


Q: What is the issue between you and Basil Rajapaksa?

A: True, there was an issue. But we met on Monday and came to a settlement. We scheduled a meeting with former President Mahinda Rajapaksa and invited Basil too. At the meeting we were able to reach an amicable settlement. Everything is now sorted.


Q: What was the reason behind the issue between you and Basil?

A: As the Joint Opposition we were carrying out a campaign. Then Basil Rajapaksa started another campaign of his own. We openly said we cannot allow two campaigns to take place. We have only one leader, that is Mahinda Rajapaksa; we all have to get together and do this together. There has to be unity among us, otherwise we cannot achieve what we want. But Basil did what he wanted. Then there were misunderstandings. But I am happy to say that everything is now sorted.


Q: Whose campaign is to be carried on?

A: We will work together. Like I said before, we have only one leader; that is Mahinda Rajapaksa.


Q: Any truth to the newspaper reports hinting of a rift in the Joint Opposition?

A: There is no truth in those reports. The Joint Opposition is stronger than before. As we have already announced our next step is to form a people's movement against the present administration. The Joint Opposition is taking the initiatives. Mahinda Rajapaksa will be heading this movement. Bail Rajapaksa and Gotabaya Rajapaksa are also in the main committee. All party leaders and some MPs from the SLFP will join hands with us. We will organise a walk from Kandy to Colombo against the Government. Yes we will do it. Details will be given later. We will have membership. We request everyone to join our movement. Professionals, academics, civil societies, they all can come and work with us.


Q: What will happen to the Joint Opposition once the People's Movement comes into force?

A: The Joint Opposition will be there. We will continue our fight until we achieve what we want.


Q: The Central Bank Governor last week said he will not seek re-appointment until COPE proves he is innocent. Your comments?

A: The UNP is full of drama. And they have some very talented actors. The Prime Minister took the Auditor General to Parliament. Wickremesinghe and Ravi Karunanayake threatened the Auditor General. Wickremesinghe is trying to get the Auditor General to give the report that he desires. But I hope the Auditor General will give a clear report.

COPE met yesterday to discuss this matter. I don't think Mahendran can escape from this. It's very clear Ranil Wickremesinghe is trying to protect him. It is no secret that the bond scam was the biggest fraud that took place in Sri Lanka. I honestly don't know why Wickremesinghe cannot see this. I don't know why he is trying to safeguard this individual.

There are many accusations against Finance Minister Ravi Karunanayake and there is more than enough evidence to prove he is wrong. But Wickremesinghe is not doing anything; he is not taking any action against him. Why is he acting like this? Wickremesinghe was known as 'Mr. Clean'. We cannot call him by that name any longer.


Q: JVP Parliamentarian Vijitha Herath told the media that you had no involvement in bringing up Mahendran's matter at the COPE meeting. He said you are desperately trying to gain credit for someone else's work. Is it true?

A: I don't want to answer Vijitha Herath's baseless accusations. Then why was this not included in the report before?


Q: What is the latest with regard to PREFAIC investigations against you?

A: I was summoned to record a statement with regards to an investigation into the alleged renting of a land on Nawalapitiya for the Mahindananda Foundation. I informed the commission I was unable to attend on Monday due to personal reasons. Then I was asked to come on Tuesday.

I know I haven't done anything wrong. This Government is trying to suppress Mahinda Rajapaksa loyalists and these are the cheap ways used by them to intimidate us. Let them take us to any commission. Let them carry out investigations. Nobody can stop us.


Q: Is it ethically correct to represent COPE when there are ongoing investigations against you?

A: I am not the only Parliamentarian with ongoing investigations; and nothing is proven yet; these are only allegations. As a Parliamentarian I have a right to become a member of the COPE. If proven guilty of the charges against me, I will decide what I need to do next.