The 'Sri Lanka Economic Summit 2016,' organised by the Ceylon Chamber of Commerce has lined up a top panel of experts from both the public and the private sector to discuss opportunities existing for Public Private Partnerships (PPPs) in the country.

The panel discussion, titled 'Private Public Partnerships – Getting Them Done, Getting Them Right,' will be conducted at the session 02 of the summit which will be held on 2 and 3 August in Colombo.

Eran Wickramaratne, Deputy Minister of State Enterprises and Entrepreneurship, Gajendra Haldea, Advisor to the Government of Rajasthan, India, who once Headed the Secretariat for PPP and Infrastructure in the Planning Commission of India and Kamal Dorabawila, Principal Investment Officer of the IFC, who is responsible for its investments in energy and Infrastructure in the South Asian region will deliver the keynote speeches at the session.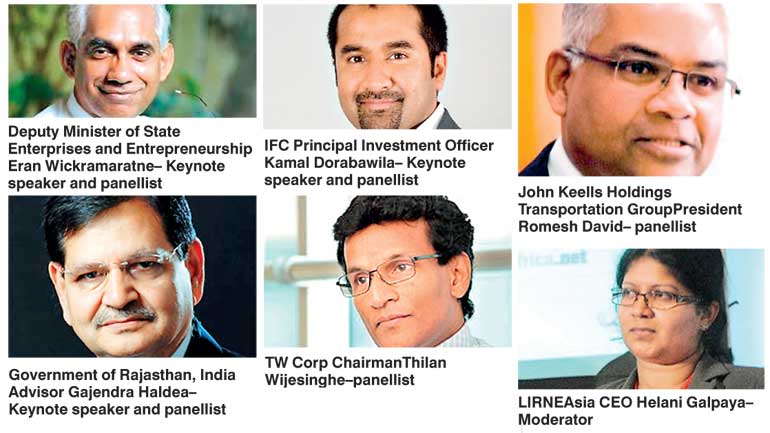 Following the speeches, the trio will join Romesh David, President of the Transportation Group of John Keells Holdings PLC and Thilan Wijesinghe, Chairman, TWCorp, who will sit for a panel discussion, which would be moderated by Helani Galpaya, CEO of LIRNEasia, a pro-poor, pro-market think tank.

The session on PPPs is held in the backdrop of rising public spending of Sri Lanka, amidst low tax revenue. Experts says, PPPs are the best solution, the Sri Lankan Government can adopt to meet infrastructure and other needs. PPPs are now recognised for their ability meet public policy challenges with private sector solutions.

The Sri Lanka Economic Summit 2016 is held under the title of 'Focus. Act. Deliver' and is expected to attract over 400 executives. If you wish to reserve your seat for this important and highly productive event, please call on 0115588852 or email to events@chamber.lk