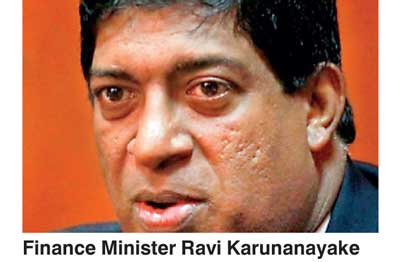 By Charumini de Silva

Disgruntled bankers yesterday slammed Finance Minister Ravi Karunanayake's proposal to set an upper limit of Rs.10 million on them if engaging in leasing business, though the move has been welcomed by specialist firms. Some of the disappointment of bankers had been conveyed during a meeting held earlier this week between heads of banks and the Finance Minister, who also met the Non-Bank Financial Institutions (NBFIs), which are considered specialists in leasing, separately on the same day.

The Daily FT learns that the Minister had proposed to set an upper limitof Rs.10 million on banks if they are keen to do leasing business, to which the heads of the commercial banks had protested during their meeting. The top 10 NBFIs account for 70% of the estimated over Rs. 700 billion leasing market whilst the banks handle the balance or Rs. 220 billion.

"The Finance Minister thinks banks are simply financing vehicles, which is not a core business of the banks. It was explained to him that leasing remains as a part of a holistic financial package they offer to customers which is allowed by the Banking Act," bankers present at the meeting told the Daily FT on condition of anonymity.



They pointed out that commercial banks are an integral part of the industry, having been in the leasing industry for over two decades, with an estimated industry share of about Rs.220 billionand they are also the major funder with which finance and specialised leasing companies engage.

"This is totally contrary to the Government policy on developing the economy with a vision of a highly-competitive social market economy that aims to improve consumer choice and increase contestability amongst producers. The worst affected parties would be the micro and SME sectors, resulting in a situation where only the super-rich can obtain leasing facilities from banks. The message that will be sent out through such a measure would be disastrous for business confidence and further diminish the country's ability to attract investment from both local and international investors," sources claimed.

They said consumer welfare should be the primary consideration of any Government policy. Banks expanding into the leasing business creates choice and cheaper rates due to competition and offers the option of one provider for all their needs.

"If this direction comes into play, the general public that has been transacting for years with a particular bank based on built confidence and trust will be affected and people will be compelled to seek financial facilities at higher cost from finance and leasing companies," sources explained.

The reason given for the 2016 Budget proposal to discontinue commercial banks from engaging in leasing is that commercial banks have neglected their core banking activities and have focused on leasing. However, according to Central Bank data, NBFIs accounted for the lion's share of 68.8% of total leasing assets by end 2015, while the balance is held by the banks.

During the year, NBFIs saw their leasing assets growing 23.9% or Rs.95 billion to Rs.492 billion, slower than the 50.7% growth in banks due to the latter's low base. The top 10 NBFIs have a market share of 70% of NBFI leasing assets and 48% of industry assets while the top three NBFIs' leasing assets are bigger than the largest bank's leasing assets.

According to sources, in 2013 the financial regulator placed a cap on penal interest rate charged on loans and advances by banks, finance and leasing companies, for which only the banks complied and are still complying with the direction.

"Banks are charging penal interest for late payments in the range of 2% per annum; whereas finance and leasing companies are charging 3% to 4% per month, burdening the overdue borrowers, while hindering entrepreneurship development in the country. By enacting such proposals, it limits the choice of poor people, ultimately compelling them to seek higher prices at finance companies," they stressed.

Last year the Central Bank made a direction in order to curb the purchase of vehicles with 70:30 loan-to-value (LTV) ratio, which once again only commercial banks are complying with.

Sources said the majority of the leasing companies are giving 30% as a personal loan and 70% as leasing. "They are not even acting in the spirit in which these directions are being issued," they highlighted.

In addition they claimed that the inconsistency in the leasing industry would lead to a monopoly situation not only in obtaining leasing facilities at higher cost, but also in obtaining insurance coverage from selected companies as well.

The collective opinion of the sources is that if this proposal comes into place, it would be tantamount to a violation of fundamental rights and they would not hesitate to seek regress from courts.