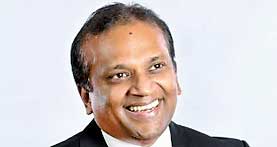 Softlogic Holdings Plc has posted impressive growth in profits as well as turnover in the financial year ended on 31 March 2016.

Profit before taxation for the year recorded an exceptional growth of 41.8% to Rs. 3.2 billion whilst the recurrent PBT for the quarter, excluding fair value adjustments, was Rs. 770.9 million as opposed to Rs. 311.2 million reported during the comparative quarter.

Profit after tax for the year was Rs. 2.2 billion, up 23.5% whilst recurrent PAT for the quarter, excluding fair value adjustments, was Rs. 502.3 million (up 165.5%). Prime contributors to the growth were the Group's almost fully owned subsidiaries, Retail sector - which is involved in electronics and consumer durables and fashion retailing with its first-in-class local and foreign franchises - contributed 33.1%, and ICT – which is involved in Samsung, Microsoft/Nokia and Dell-- contributed 28.6%.

Healthcare Services added in 17.7% to Group topline whilst Financial Services contributed 16.7%.

"The businesses we are in show tremendous potential for continued growth. Our operations could get affected in the short term with challenging economic conditions currently witnessed in the country but as a conglomerate we are engaged in the right products and services unrivalled by other industry players and we are hence confident -- with an economy that shows resilience and strong potential for significant growth -- our businesses will also, assuredly, grow in tandem with or much faster than the economy," Softlogic Holdings Plc Chairman Ashok Pathirage said.

"We recognise the scope of the retail market and our forward thrust will be concentrated in this particular area going forward. The other sectors are continuing to grow and all our investments in them will ensure a chain of value creation hitherto not seen," he added.

Softlogic's consolidated turnover continued to progress according to plan with strong growth of 41.7% to Rs. 56.1 billion during FY2015/ 16 whilst the quarter recorded a 18.3% increase in turnover to Rs. 13.9 billion. Group Gross Profit registered a strong growth of 32.1% to Rs. 18.7 billion for the year with the quarter witnessing an improvement of 23.0% to Rs. 5.0 billion.

Operating Profit increased 51.1% to Rs. 6.4 billion for the year with the quarterly operating profit registering a 65.6% growth to Rs. 1.6 billion. Key contributors to Group Operating Profit for the year were Healthcare Services, Financial Services, Retail and ICT.

EBITDA advanced 44.8% for the year to Rs. 8.2 billion from Rs. 5.7 billion reported last year. Quarterly EBITDA was Rs. 2.1 billion, up 50.5%.

Softlogic Holdings PLC is one Sri Lanka's fastest growing conglomerates engaged in Healthcare Services, Retail, Financial Services, ICT, Automotive and Leisure & Restaurants employing over 9,000 people in 47 companies across the Group.