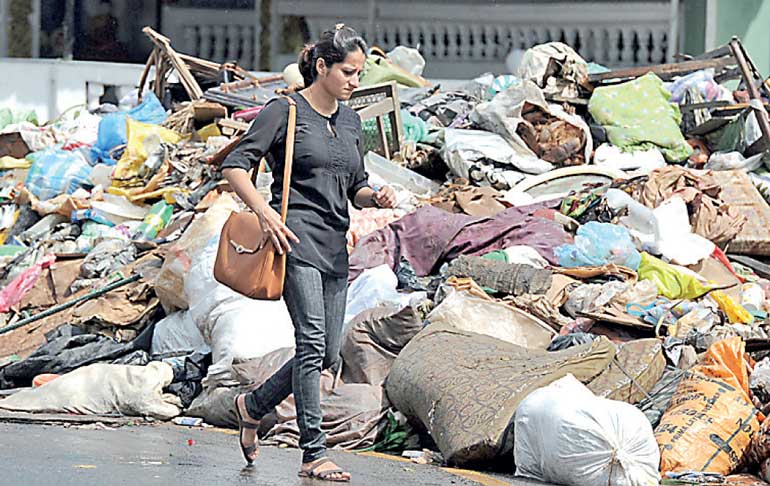 A Sri Lankan pedestrian walks past piles of debris after flood damage in Kolonnawa yesterday. Floods have subsided across Sri Lanka revealing the full extent of damage from last week's heavy rains that also triggered landslides, officials said as the death toll crossed 100 – AFP
By Chamodi Gunawardana

Two Cabinet papers allocating Rs. 159 million for post-flood clean up including garbage management in affected areas and cleaning the Kelani River bank was approved by Cabinet, Disaster Management Minister Anura Priyadarshana Yapa said yesterday.

Speaking at the Sri Lanka Freedom Party (SLFP) weekly media briefing, Yapa said Rs. 18 million would be used to clean the dumped garbage in those areas while Rs. 141 million has been allocated for cleaning up the banks of the Kelani River around the Kollonnawa area.

The work will be carried out under the joint directives of the Disaster Management Ministry and the Provincial Councils and Local Government Ministry.

"We expect to launch an efficient trash disposal system in floods hit areas especially around Kollonnawa. The collected garbage dumps will be moved to a temporary place until we find a permanent station," he noted.

Outlining the plan for resettling displaced people in Aranayake, Yapa affirmed the Government would pay compensation to people who lost their homes in the horrific landslides. The Government on Tuesday called off search efforts after more than a week but over 100 people remain missing, according to the Disaster Management Centre.

"The Government plans to build houses in a different location for Aranayake landslide victims. Those people will be settled in a special temporary camp until the construction has ended," he stated.

However, the Minister stressed it was compulsory to obtain prior approval from the National Building Research Organisation (NBRO) before commencing any construction work in landslide-prone areas such as Aranayake.

"We will never resettle those victims in risky areas," Yapa asserted.

The Minister further said that the Government hoped to position Doppler radar observation systems in three separate areas to measure rainfall via a donation by Japan International Cooperation Agency (JICA).

In response to questions over transparency in allocating overseas flood aid, Yapa said the Government had yet to spend the monetary donations because it had to be carried out under the approval of the Treasury.

He added the urgent relief items donated by foreign countries had been distributed distributing to affected people with the support of the tri-forces.

Provincial Councils and Local Government Minister Faiszer Mustapha said the high number of unauthorised constructions and land filling were to blame for the flooding along the banks of the Kelani River.

Commenting on Local Government institutions' involvement in the garbage cleaning process, Mustapha said: "I have directed all Local Government bodies to send at least one vehicle from each institute to collect garbage in affected areas. Within another two days we will able to clean the entire area."

Meanwhile, Irrigation and Water Management Minister Vijith Vijayamuni Soysa said the process of clearing blocked drainage and repairing minor water banks in Aranayake would commence on 4 June under supervision of his Ministry.

"We have already cleaned over 1,000 unclean water wells from Avissawella to Kollonawa. People can consume that water without fear. We expect to clear all unclean and blocked water resources as soon as possible," he noted.