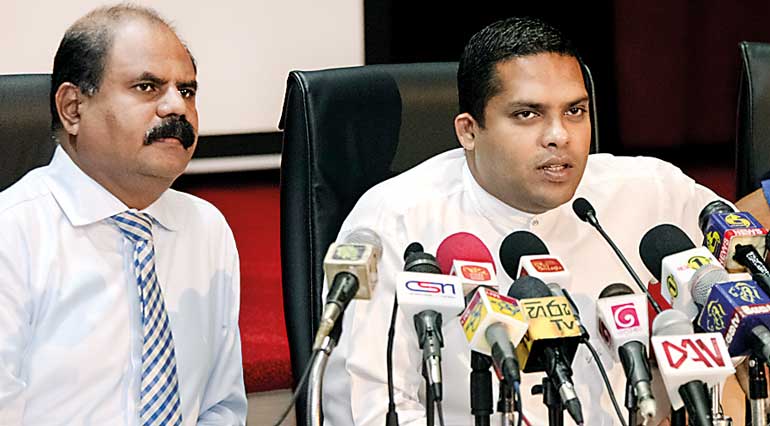 Telecommunications and Digital Infrastructure Minister Harin Fernando (right) and SLT Chairman Kumarasinghe Sirisena at yesterday's media briefing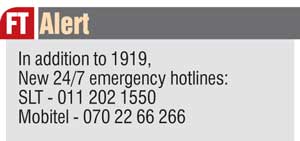 By Shiran Illanperuma

In the aftermath of floods and landslides that have left dozens dead and hundreds of thousands displaced, Sri Lanka Telecom (SLT) and Minister of Digital Infrastructure Harin Fernando announced yesterday plans to support ongoing relief efforts.

Under instructions from President Maithripala Sirisena and Prime Minister Ranil Wickremesinghe, SLT, together with Mobitel and several other organisations, have come forward to provide support for ongoing relief efforts in areas that have been battered by heavy rains, floods and fatal landslides.

As an immediate measure, SLT, Mobitel and other subsidiaries have pooled in to donate Rs. 10 million to the special presidential fund for relief efforts in Aranayake and surrounding areas that have been buried by the worst landslides seen in years.

Workers at SLT and Mobitel have donated a day's worth of their salary to contribute Rs. 6 million to this fund. Minister and Deputy Minister of Telecommunications and Digital Infrastructure have donated a month's worth of their salary to make up the remaining Rs. 4 million.

In a brief assessment of the damage done to SLT's connectivity grid, Minister Fernando said that over 10,000 lines had been lost due to bad weather, though around 90% of them were recovered by yesterday. "Village level outlets have been damaged but we have diverted services and are making sure that there is 24 hour service. We can't do any repairs until the water recedes," said the Minister.

SLT officials said that the number of calls received through emergency hotlines have exceeded 20,000 per day, revealing the gravity of the situation and a desperate need for communications capacity. In response, SLT announced that all emergency calls made via the hotline 1919 would be completely free for 24 hours. In addition, two new hotlines have been set up to help coordinate relief providing programs: 011 202 1550 for SLT and 070 22 66 266 for Mobitel.

SLT added that they were working to keep all phones online and have deployed extra staff to work round the clock to ensure no disruption of services.

"In a disaster situation, connectivity is very vital. Most people feel more distraught when they can't communicate and that creates additional pressure. At a time like this our ability to provide connectivity is a paramount importance so that people can communicate their grief and reassure each other," the Minister said.

To further meet the post-disaster communication crisis head-on it was also revealed that Mobitel have set up a text-messaging (SMS) service in coordination with the Disaster Management Centre (DMC). This service will disseminate all special messages from government offices including the Meteorological Department, DMC, Army, Navy and more to help keep citizens up to date on the situation on the ground.

The Information and Communication Technology Agency (ICTA) of Sri Lanka, which has been providing information service, will extend its service hours. ICTA will now be made available 24 hours rather than closing at 7pm.

Under directions from Minister Fernando, all SLT and Mobitel teleshop outlets will also be converted to collection points in order to collect and distribute aid to survivors of the landslides. "We will do everything in our power to bring normalcy back to the lives of affected people," the Minister said.

SLT further promised to distribute free phones to 541 relief camps in the heavily affected Kolonawa area, though some camps remained largely inaccessible due to extreme weather and road conditions. Free phones will also be distributed to Ceylon Electricity Board workers. SLT also expressed willingness to provide free phones to Samurdhi and Grama Niladhari workers if necessary.

Recalling the horrific Boxing Day tsunami of 2004, Minister Fernando called on Sri Lankans to once again come together to uplift the livelihoods of the estimated 400,000 or more displaced by the worst natural disaster in over a decade.

"The scale of this disaster has exceeded all our expectations, increasing to unprecedented levels. It is very inspiring that we, as a country, regardless of race, religion or political affiliation, are coming together as Sri Lankans in this dire situation. We have always shown the world how to come together as a people at a time of crisis," he said.

"We really want to help these people of Aranayake and the surrounding areas to rebuild, because we feel it is our duty and responsibility. We have every intention of continuing these services for as long as needed."

Details of the relief efforts carried out by SLT and Mobitel can be found on their respective Facebook pages.