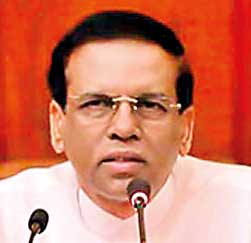 Japanese Prime Minister Shinzo Abe's Special Representative Hiroto Izumi called on Sri Lankan President Maithripala Sirisena this week at the Presidential Secretariat to discuss the President's forthcoming visit to Japan to attend the G7 Summit where he is a special invitee to the Outreach Session on Stability and Prosperity in Asia, the President's Media Division said.

Izumi thanked President Sirisena for accepting the invitation and added that the Japanese Prime Minister is looking forward to having a bilateral discussion with President Sirisena. He said that Prime Minister Abe conveyed his good wishes to the programs launched by President Sirisena to strengthen reconciliation and to speed up economic growth.

The President thanked the Japanese Premier for the invitation extended to him and said he was looking forward to have fruitful discussions during his visit to Japan.

The President will get an opportunity to brief the fellow leaders about the steps taken, first under the 100-day program and secondly, since the 17 August parliamentary elections, to strengthen democratic institutions, judicial independence, freedom of expression and human rights. The leaders are scheduled to engage in candid discussions on foreign policy issues including counter-terrorism and other issues.

One of the major issues confronting the international community is growing uncertainty in the global economy, impacted by a range of factors including slowdowns in emerging markets, the sharp drop in oil prices and weakening trade. At the G7 Ise-Shima Summit, leaders will aim to deliver a positive message to address challenges to global economic growth and other risks.

The 42nd G7 summit will be held on 26-27 May in Kashiko Island, Shima, Mie Prefecture, Japan. Leaders of G7 member states – Canada, France, Germany, Italy, Japan, UK, USA, and representatives of the European Union will attend the summit.

In addition to meeting those leaders, President Sirisena is scheduled to hold discussions with five other leaders from Asia on the sideline of the Outreach Summit.