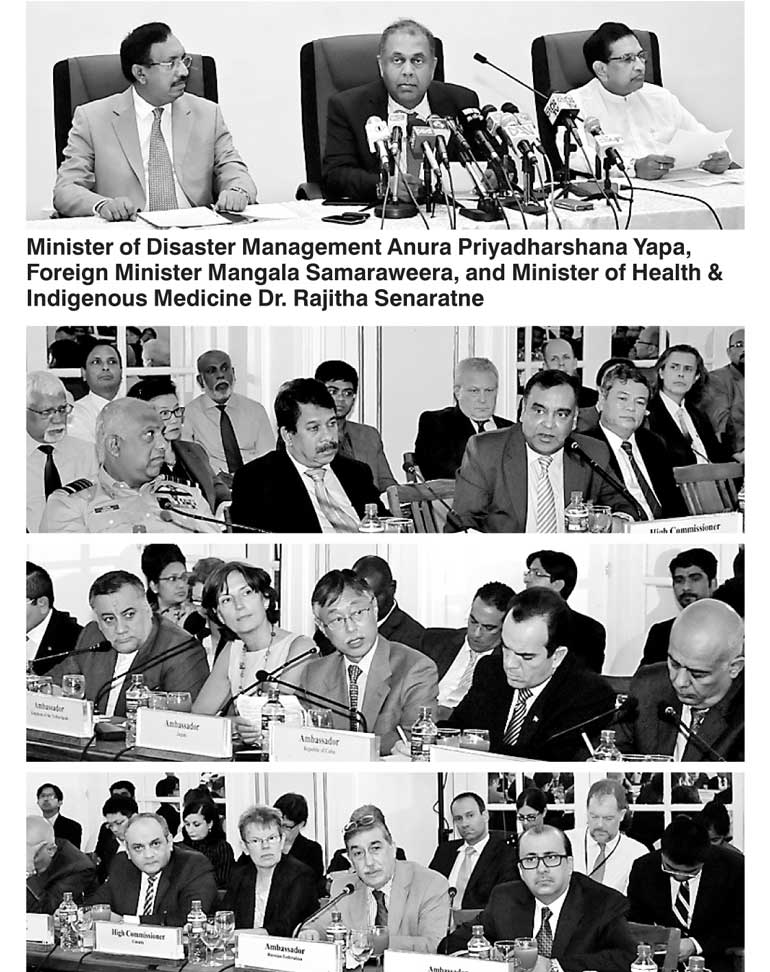 Foreign Minister Mangala Samaraweera, together with the Minister of Disaster Management Anura Priyadharshana Yapa and the Minister of Health & Indigenous Medicine Dr. Rajitha Senaratne, on Thursday briefed the Heads of Diplomatic Missions and International Organisations based in Colombo on the flood and landslide situation in the country.

Samaraweera expressed appreciation to the international community for their messages of condolence and assistance to victims.

Ministers Anura Priyadharshana Yapa and Dr. Rajitha Senaratne briefed the gathering on the present ground situation and the ongoing relief and rescue efforts that are underway. The Ministers highlighted some of the immediate relief needs of equipment and material that are in short supply and said that the Government would welcome foreign assistance of identified priority items and material. The Ministers also briefed the Diplomatic Community on action that was being taken to mitigate any adverse health risks following flooding. The Diplomats present at the briefing expressed their willingness to extend any support required at this difficult time.

Following the briefing, the Ministers held a Press Conference for local and foreign media.

The Ministry of Foreign Affairs has established a Task Force to coordinate emergency relief assistance from Diplomatic Missions in Colombo and Sri Lankan Missions overseas, with the relevant Ministries and Agencies in Sri Lanka. The contact details are as follows:-

Tel: +94 11 2323015 (Cypher) 24 Hours

Fax: +9411 2446091, 2333450 (Cypher)

Email: help@mfa.gov.lk

Coordinator: Ms. Varuni Muthukumarana, Director

Dep. Foreign Minister's Bureau

Mobile: 0718147939

Any Sri Lankans abroad and well-wishers who wish to contribute towards the flood relief efforts are requested to contact their nearest Sri Lankan Mission/Post for details on how they may assist, or contact the Task Force.
State medical institutions alert for emergency care
The Health Ministry has instructed all government medical institutions to stay alert for any emergency situation that could arise due to adverse weather conditions, Director General of Health Services Dr. Palitha Mahipala said yesterday.

Accordingly, medical teams and ambulance services in all hospitals island-wide will be kept ready to deploy at a moment's notice.

Dr. Mahipala noted approximately 240 camps for displaced people were reported by Thursday evening and every possible step is being taken to provide medical assistance for them. The Ministry can deploy medical groups to assist people in unreachable places by boat, he added.

Special instructions have been given to the officials to immediately hospitalise all pregnant women in the refugee camps.

All the disaster management centres of the Ministry will also be opened 24 hours until the disaster situation comes to an end.

Dr. Mahipala warned the public to be mindful of epidemic diseases that could crop up during this season and asked to drink boiled water as much as possible. It is important to go for medical treatments immediately, in case of any symptoms, he said. The Director General of Health also requested the public to domestically manage garbage until normalcy returns.

As per instructions given by the President, the Prime Minister and the Health Minister, funds have been allocated without any limit to facilitate the displaced public, and already essential medicine have been supplied without any shortage, he added.