"Clearly, there is so much potential [in Sri Lanka], and that's the one thing that any entrepreneur seeks out, because it's the perfect storm in business – commercial gain, and the chance to transform lives..." says Sir Richard Branson, in a wide ranging interview published in the May edition of leading business magazine LMD.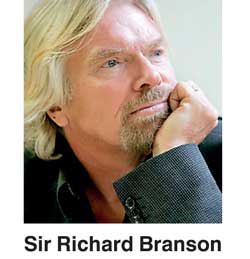 As to whether the Virgin Group boss will invest his hard-earned money in Sri Lanka, the magazine notes: "This has been a question that's been teased for several years now, with both the Government of Sri Lanka and the 65-year-old business magnate playing a polite, yet strategic, game of cat and mouse – the Sri Lankan authorities are desperate to catch some of Branson's ingenious business nous, restlessly inventive mind, egocentric charisma and, above all, wealth; to highlight's the country's economic and social credentials, as it enters a period of renewed stability."
His decision will rest predominantly on whether or not he and his vast team of advisers and aides feel that Virgin can produce a product that will positively impact the lives of those people, LMD asserts.

Branson explains, in his exclusive interview: "I only ever take up a business opportunity because I think it is going to be fun for me and enrich my life experience."

And he adds that as far as Sri Lanka is concerned, he "wouldn't say that everything is perfect, and there are still issues; but the end of the conflict has only been a good thing for Sri Lanka…That is always the crux of it."

Branson explainsthat it "is always what we are looking to do. It is always at the core of our business model. If you can make a product that will undoubtedly make people's lives better, more enjoyable, more functional or easier in some way, then you're onto a winner."

"If you take Sri Lanka as an example, you look at the conditions, what the market looks like and assess it. Where is the gap you can fill? Once you identify something, you can find the best possible people to work on it, to make it a reality – and then go for it," he states.

The May edition of the pioneering business magazine will be released to leading supermarkets and bookstores today (for the full story, log onto www.LMD.lk).