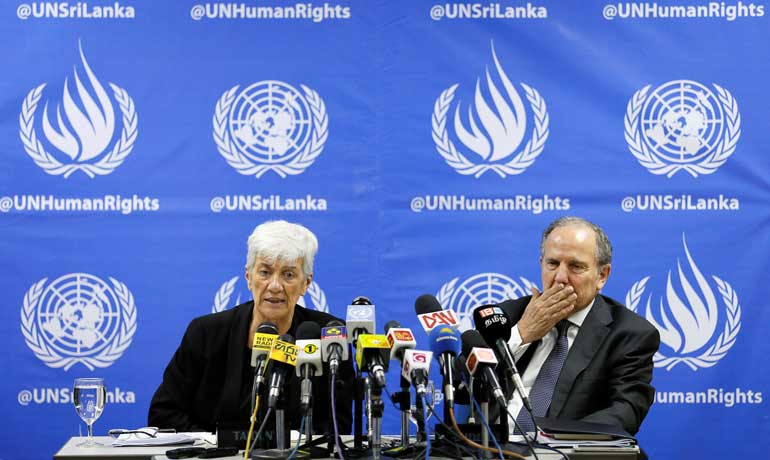 Juan E. Mendez (R), United Nations special rapporteur on torture and other cruel, inhuman or degrading treatment or punishment, and Monica Pinto (L), U.N. special rapporteur on the independence of judges and lawyers, attend a news conference at the end of their visit in Colombo, Sri Lanka 7 May -REUTERS/Dinuka Liyanawatte
Hindu: The United Nations has expressed concern over the reported manner in which the Sri Lanka government has arrested former activists of the Liberation Tigers of Tamil Eelam (LTTE) in recent weeks.

U.N. Special Rapporteur on torture Juan E. Mendez, who was in Sri Lanka along with another Rapporteur on independence of judges and lawyers, Monica Pinto, for nine days, told journalists on Saturday that the manner of "the arrests of rehabilitated persons alleged as happening recently – by plainclothes agents, after days of being followed and after asking questions to family members, neighbours and associates – raise fears in the respective communities and only add to distrust about the motives for those re-arrests."

Mendez was responding to questions on the reports of the Terrorist Investigation Department having arrested over 20 persons in the Northern and Eastern provinces including three former functionaries of the LTTE. He urged the government to initiate measures to assure the population that "there is no reason to believe the recurrence of illegality of arrests that this nation faced some years ago."

While making it clear that rehabilitated persons "are not immune from investigation of possible new crimes," he wanted the authorities to be "transparent on the reasons and evidence on which a detention order rests."

The head of the Poonthottam Rehabilitation Centre in Vavuniya of the Northern Province informed him that 12,146 detainees "have been processed through the PTA [Prevention of Terrorism Act] to date."

However, the U.N. Rapporteur had not yet received figures on persons prosecuted instead of being rehabilitated; those who had been convicted and acquitted and those who were still under arbitrary detention.

He wanted the authorities to unconditionally release detainees if there was not sufficient evidence to hold them even after keeping them in detention for many years.

To a query by The Hindu on the dilemma of the Sri Lanka government in repealing the PTA in the backdrop of reports of a body such as the Islamic State being able to draw supporters from many countries, Mendez replied that it was possible to design laws and administrative arrangements not to leave a country defenceless against terrorism and organised crime, while respecting fully the rights of everybody, including those suspected of crime. Effectiveness against terrorism and organised crime did not require "breaking down the minimum guarantees for the protection of life, liberty and personal integrity."

Monica Pinto emphasised the need for establishing transitional justice mechanisms with independent and impartial people.
UN urges judiciary reforms in Sri Lanka to avoid delay in justice
Reuters : United Nations human rights experts on Saturday urged Sri Lanka, which is under scrutiny for its human rights record during the 26-year Tamil insurgency, to implement judicial reforms to speed up prosecutions.

Sri Lanka agreed last year to establish a judicial process involving foreign judges and prosecutors to investigate alleged war crimes during the conflict, in line with U.N. recommendations.

The government has promised an impartial investigation into human rights violations by both sides in the final phase of the war, which ended with the military defeat of the Tamil Tigers separatist guerrillas in 2009.

"The government has changed, the war is over. But much of the war machinery is still in place," U.N. special rapporteur Monica Pinto told reporters.

The U.N. rapporteur on torture, Juan Mendez, said he had came across prisoners who had been detained without trial for more than eight years, some due to Sri Lanka's Prevention of Terrorism Act.

"First scrap the PTA, eliminate prolonged detention without trial in various forms, establish mechanisms for real judicial and prosecutorial control over police investigations and things along those lines," he said.