Anoma (third from right) and the panel of artists with visiting dignitaries

Anoma speaking at the discussion held as part of the exhibition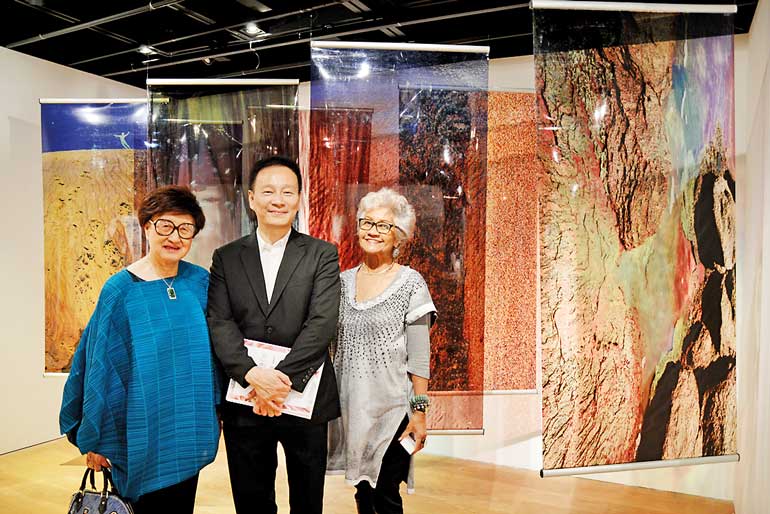 Anoma with Dr. Peggy Lam, Chair of the HKFW, and Maurice Lee of the Arts Development Council
Sotheby's Hong Kong recently exhibited the ground-breaking show by women artists reflecting the cross regional and cross cultural concept of China's initiative 'One Belt One Road.' Sri Lanka was the only South Asian country included and was represented by the renowned artist Anoma Wijewardene.

The exhibition curated by the entrepreneur Pansy Ho and organised by the powerful Hong Kong Federation of Women, with the support of a number of politicians, such as Hong Kong's Chief Executive C.Y. Leung and his predecessor Henry Tang along with Patti Wong – Chairman of Sotheby's Asia referenced the spirit and legacy of a great art heritage from countries along the legendary Silk Route. The significance of the exhibition and representation of Sri Lanka there lies in seeing ancient trade and diplomatic ties in the light of the twenty-first century cultural and political shifts.

In an exclusive interview with the Sri Lankan artist Anoma Wijewardene who represented the nation at this prestigious exhibition, Daily FT discussed the importance of this show, the artists included and the underpinning themes that are very relevant to our country. Following are excerpts:



Q: This show was a monumental one. Can you share the context in which it becomes a historic one and what it means to Sri Lanka to be represented here?

A: It was inspired by China's 'One Belt One Road' project and a pioneer project organised by the Hong Kong federation of Women along with Sotheby's Hong Kong which is envisaged to be a catalyst for regional cooperation between the Eastern and Western cultures and the promotion of gender equality and women's empowerment. This exhibition underscores the value of Sri Lanka to China in cultural, economic and geopolitical terms, which I believe is extremely important in relation to our past, present and future.


Q: This initiative involved countries from Europe through Middle East, Central, South and East Asia. How did you connect Sri Lanka s heritage, present and future in your art?

A: It was truly humbling and awe-inspiring to be showcased within the August portals of Sotheby's Asia galleries alongside such established and recognised artists from Europe and Asia; and to have been hosted by the Federation the board members of which are the most influential and dynamic women in Hong Kong. My artwork harks back to the eons of time that have shaped our land and the layers of relationship between man and earth, historical, geological, natural, and our need going forward to protect and nurture this precious environment which is our small island.


Q: 15 women artists represented their nations here including Japan's iconic Kusama Yayoi considered among world's top 100 influencers according to TIME. What are your thoughts on the role of women artists and the work by Yayoi that was shown here?

A: Dr. Peggy Lam, Chairman of the HKFW, opines that 'Art is genderless, and today women make up more than 50% of the visual artists, but are vastly underrepresented in both private and museum collections.' Women have always been painting creating and contributing to the cultural life of their peoples but it's true that they have not been awarded great representation. I do not advocate that artists have roles, as they must be free to express whatever they need to, but women are nature's carer's, nurturers and protectors and through the medium of art can be incredibly effective in confronting or at least raising awareness regarding issues of social unrest, reconciliation and environment.

It was a lifetime achievement to be shown besides Kasuma Yayoi. Her wonderfully vibrant work, the steel pumpkin which was loaned to this show by a generous collector, is famous, and has graced many covers of art magazines, and her designs were in all the windows of Louis Vuitton worldwide last summer. It was humbling to have my work alongside that. She is an unstoppable phenomenon.


Q: Who are the other artists and what were the issues or topics they highlighted?

A: Saule Suleimenova of Kazakhstan who showed at the 2015 Venice Biennale, explores the possibility for a post-Soviet national identity and ideology for her peoples; and Vivienne Tam, the New York Hong Kong designer with works in the permanent collections of the Metropolitan in New York and the Victoria and Albert Museum, London showed her tapestry 'Cultural Dreamland' which blended Chinese landscapes with symbols from many countries. French artist Claire Deniau's work is in the Tate Gallery, London, and she explores the relationship between the painter and viewer. China's Peng Wei's delicate work reflects on the impact of globalization on China's heritage. Russian Yelena Popova's oeuvre is about her concept of balance in politics, relationship and representation.



Q: We note that Sri Lanka was the only country selected from South Asia. What do you think they found interesting about Sri Lanka's heritage and art?

A: I felt there was great warmth towards Sri Lanka, our Buddhist commonalities, the fact that we are islands on the edge of vast land masses, and our long history of exchange of trade and culture through the ages may have been a factor. In terms of the art I think it is down to the curator's choice but I cannot be sure. However we were the smallest country to be represented and I was both humbled and honoured to represent Sri Lanka at a forum such as this and feel immense gratitude to all those in Sri Lanka who have supported and enabled my work in a multitude of ways through the years. This is for Sri Lanka and for them.


Q: How many artists came? What was your experience and interaction with them?

A: It was interesting that many of us had had similar experiences echoing the silk route. Yelena from Russia lives and works in the UK, Hong Wei from Macau lives in Paris, the artist Chong studied in Paris and lived there for a while before returning to her native Malaysia. Vivienne Tam from Hong Kong lives in New York, and shows her collections at NY fashion week. I myself schooled partly in India and did my BA and MA at Central St Martins in London, and lived in the UK designing mainly for Europe New York and Tokyo, for decades, before returning to painting full time and living in Sri Lanka, while also exhibiting in London and elsewhere. The group was truly fluid and international in many ways.


Q: Sotheby's is prestigious and one thinks of them as a Western auction house, but how would you describe their positioning in Asia?

A: Sotheby's was established in Europe in 1744, and has long distinguished itself as a leader in the art auction world and has been at the art hub of Asia which is Hong Kong since 1973. They were wonderful to work with. In addition, Sotheby's Asia chairman is a woman whom I find inspiring: She is the dynamic Patti Wong with many years' experience in London and New York, she has been instrumental in the significant growth of the art market in south east Asia. Like so many of the women I met she was totally inspiring.


Q: Your work was a digital installation? Can you discuss its theme and content?

A: 'Earth, Rise within Us' is an abstract evocative work which seeks to convey the precarious fluidity of the earth's delicate ecosystem that is being fast eroded by man's insistent developmental initiatives across the world. It invites the viewer to engage and respond emotionally and physically by walking within the installation, to see oneself reflected, to see others through it, to become the artwork. The separate panels move and blend, float and shift to become a single work reiterating the truth that Man and Earth are separate, yet one.


Q: What was the public response to your work?

A: I was surprised by how much it was appreciated. Many were concerned about the effects of climate change, since Hong Kong had been almost fogbound for weeks it had even more resonance; but also because it was interactive and they could really experience it and be a part of it and enjoyed how much it changed from different angles and also how much it changed themselves and their friends as they walked amongst and through the panels. Their view was changed by it and I hope this created some reflective moments. It's digital and interactive aspects made it different from the other works, and a by-product I had not envisaged was that it afforded super selfie opportunities, and that being the most universally popular pastime of the moment it was much enjoyed, on a light as well as the deeper level!


Q: What's next for Anoma Wijewardene?

A: Back to the daily life alone in the studio painting, expressing and expanding ideas continuing the creative process. The studio gallery is now my primary space for working and showing my art and I welcome the breaks, critique and interaction, when I have visits from viewers!