Calls on ADB and other lending agencies to fund megapolis development
Says need for 60,000 houses in capital to free up land for investment
Wants less control from Central Govt. and more involvement from people
By Uditha Jayasinghe in Frankfurt

Colombo Mayor M.J.M Muzammil yesterday called on international funding organisations including the Asian Development Bank (ADB) to fund mega infrastructure projects in urban centres, including the Government's flagship megapolis project.

Addressing a session on "Moving towards cities of the future" at the ADB's Annual Meeting in Frankfurt, Germany, Muzammil insisted it was important for multilateral financial organisations such as the ADB, World Bank and others to fund infrastructure programmes such as metro and highway ventures as they are essential for metropolis development in developing countries.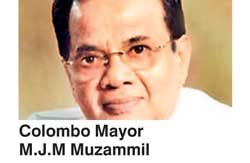 "We cannot rely on commercial banks to fund these ventures because the returns are long term. It could take decades for infrastructure projects to become profitable and no commercial bank would wait that long. Therefore we need funding from other sources," he said.

According to expert data an estimated 300,000 people worldwide move from rural to urban areas each day. In China 50,000 people move to cities while the number is closer to 30,000 in India. As these numbers grow a new city the size of London has to be created every seven years, causing unprecedented challenges to development.

In recorded human history only Rome, London and Beijing were recognised as cities but now thousands have joined that category. However, the panel of experts at the ADB session insisted each city has to find its own solutions based on solid data.

Underserved settlements are another area where lending agencies can play a crucial role Muzammil said pointing out that Colombo needed about 60,000 houses to meet the needs of poor people. He also noted that if these houses could be provided it would be a cost effective way to free-up commercially valuable land for development.

"I'm convinced that if people in underserved settlements are given houses then we could move them easily to free up land." The Mayor was also critical of what he termed as "interference coming from the centre," referring to the strong policy control exercised by the Government over the functions of Colombo that overrides other elected bodies including divisional secretaries and the municipal council.

"The people know what is better," he said stressing the need for greater stakeholder engagement and suggested the "Government should ensure lesser higher up interference. Interference with bottlenecks can be serious. At the end it is about the people."

Mayor of the Indonesian city of Bandung Ridwan Kamil echoed Muzammil's call, acknowledging that metropolis development across the Asian Pacific region could add up to trillions of dollars. In Indonesia Mayors of nearly 500 cities have been empowered to attract, evaluate and sign development contracts that will be guaranteed by the central Government.

"Bandung alone needs $7billion for infrastructure projects that is impossible for the city Budget to fund. This is why I am calling for private-public partnerships to be generated so that these needs can be met.